CanREA receives FNPA Indigenous Allyship Award
July 5, 2023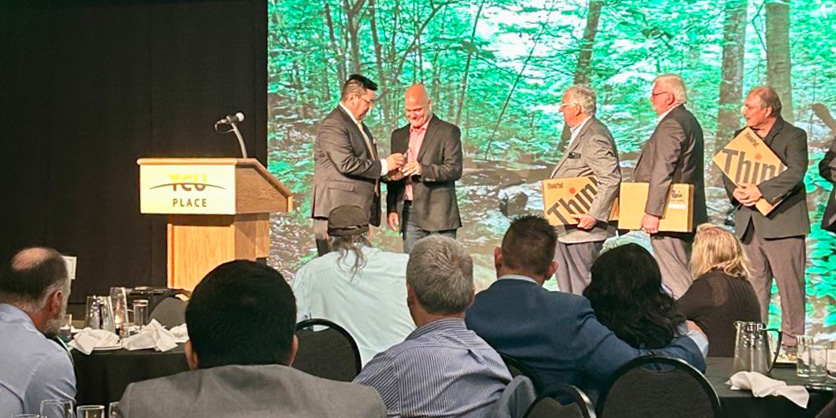 CanREA is proud to receive the First Nations Power Authority (FNPA)'s Indigenous Allyship Award, presented to CanREA in Saskatoon on Monday as part of the FNPA's 7th Annual Indigenous Cleaner Energy Forum.
The Award was one of four "Pathway to Powerful Opportunities" awards presented at the Chairman's Gala, hosted by the FNPA's Board Chair, Chief Felix Thomas.
The Indigenous Allyship Award celebrates organizations who have demonstrated a commitment to supporting Indigenous peoples and communities by promoting and practicing allyship, advocacy, and reconciliation in the context of energy.
Quotes
"On behalf of CanREA, I want to thank the FNPA's President and CEO, Guy Lonechild, and the whole FNPA team for being such gracious and welcoming hosts. We are thrilled to be presented with this meaningful award," said Erwin Heuck, who accepted the award in his role as CanREA's Director for Saskatchewan.

"It is an honour and a privilege for CanREA to have the opportunity to support Indigenous-led capacity building around sustainability and energy security, especially in Northern and remote communities across the country," said Heuck.

"Indigenous-led projects will drive the future of renewable energy and energy storage in Canada. As an industry, we are just getting started."

Erwin Heuck
CanREA's Director for Saskatchewan
Related Article
The Canadian Renewable Energy Association (CanREA) has announced the industry's year-end data, reporting that Canada's wind and solar energy sectors grew significantly in 2022.