IBEW Local 804 Latest to Receive TDA Status for 309A Electrician Construction and Maintenance Program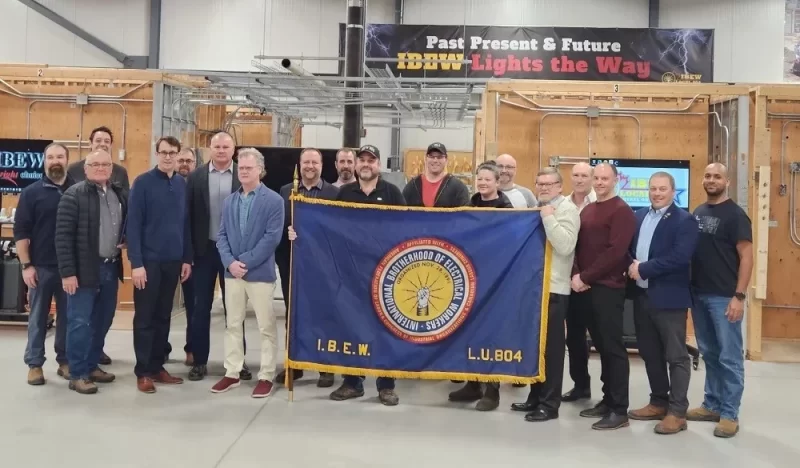 January 13, 2023
IBEW Local 804 has received Training Delivery Agent (TDA) status for their 309A Electrician Construction and Maintenance Program.
The Hon. Monte McNaughton, Ontario's Minister of Labour, Training, and Skills Development visited IBEW Local 804 Training Center today to officially deliver the fantastic news. The minister was greeted by IBEW Local 804 Business Manager, Brian Jacobs and President, Dino Celloto. Attendance also included IBEW CCO's, James Barry, and Cambridge MPP, Brian Riddell.
"When you have a job as an electrician, you have an in-demand job for life," said McNaughton. "That's why our government is approving IBEW Local 804 to train Construction Maintenance Electricians in Kitchener-Waterloo. We're making it easier for job seekers to explore local training opportunities, start rewarding careers in the electrical industry, and earn bigger paycheques."
"Local 804 is pleased to be designated as a Training Delivery Agent for Electrician Construction and Maintenance Workers. Through this, we will ensure higher completion rates, higher job placements, and a stronger, healthier, safer electrical workforce for Ontario. Specifically, we thank Minister McNaughton for his continued focus on building up IBEW's training capacity."

Brian Jacobs
Business Manager, IBEW Local 804, Central Ontario
This announcement marks another milestone for the IBEW in Ontario. IBEW Local 804 is the second IBEW Local to receive TDA status for the 309A Electrician Construction and Maintenance program. IBEW Local 586 in Ottawa was the first.
"309A electrician Training Delivery Agent (TDA) approval for IBEW Local 804's training centre in Kitchener-Waterloo is transformational for IBEW's training system. The Ontario PC Government first approved 309A TDA status for IBEW Local 586's training centre in Ottawa, and now the second for Kitchener-Waterloo. The IBEW applauds the leadership of Premier Doug Ford and Minister Monte McNaughton for partnering with IBEW to strengthen Ontario's electrician workforce. IBEW CCO represents 20,000 Ontario electrical journey persons and apprentices in construction and maintenance and we are proud to partner with the Ontario Government."

James Barry
Executive Secretary Treasurer, IBEW Construction Council of Ontario
The IBEW Construction Council represents 11 Local Unions across Ontario, serving 20,000 electricians, powerline technicians, and network cabling specialists.