Simon Smoldon Promoted to Sustainable Solutions Business Unit Manager at Gescan
July 5, 2023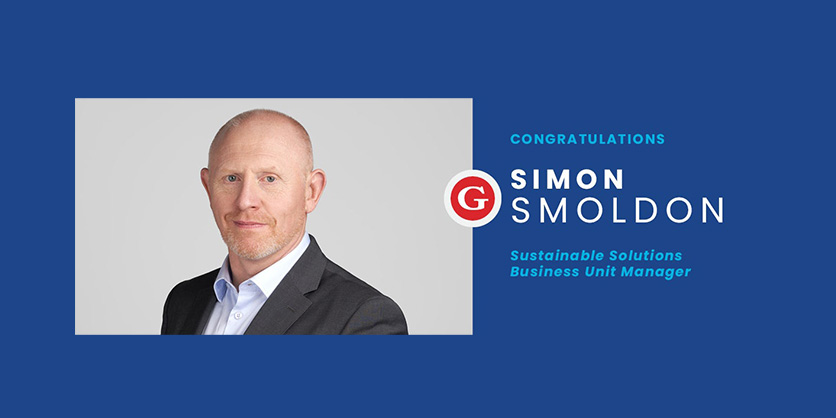 Driving leadership in sustainable solutions and expanding business opportunities.
Gescan promotes Simon Smoldon to Sustainable Solutions Business Unit Manager, reflecting the company's commitment to supporting customers with our sustainable products and solutions. Simon, previously the Sales Manager for the BC Lower Mainland, brings a wealth of expertise and a passion for sustainability to his new role.
Having been in the industry since 2005, Simon Smoldon joined Gescan in 2016 as the Heating and Ventilation Specialist, "What attracted me to Gescan, in addition to great people, is we're a company that uses data to make decisions and drive the business forward." Simon continued, "Beyond numbers and facts, we value the broader context and reasons driving our actions. Gescan has consistently demonstrated an innovative approach to providing electrical solutions to customers. With dedicated business unit managers and specialists in areas such as lighting, distribution, datacom and automation, supported by Sonepar, we are always at the forefront of embracing industry developments."
About Simon Smoldon's New Role at Gescan
In his new role, Mr. Smoldon will drive the sales of sustainable solutions, focusing on electric vehicle (EV) charging, power sharing, solar power and other green offerings. "I'm thrilled to collaborate with branch managers, sales leaders and our teams to establish branch champions, expand our portfolio and identify regional opportunities. Maximizing vendor relationships is also a priority. The collective support and learning from one another will pave our path to success." By understanding diverse regional needs and embracing continuous improvement, Simon aims to enhance Gescan's performance, "As a valuable part of my learning journey, it's not only important to understand unique characteristics of different territories we serve but also emerging national trends."
Simon's goal is to position Gescan as a leading provider of sustainable solutions while prioritizing education and training to effectively guide customers in navigating products, rebates and incentives. "I want to ensure our customers are aware of opportunities should they fit into the profile of work they're doing," Simon asserts. "If they're providing an electrical circuit for one thing, they should be looking to sell the end solution, allowing them to increase their business in a new segment."
Moreover, Mr. Smoldon emphasizes future-proofing installations and highlighting long-term solutions that show a positive return on investment for end users. By considering the longevity and sustainability of installations, Simon aims to help contractors make informed decisions that align with their customers' long-term objectives. "Choosing a short-term solution might not necessarily be best for the future. We must be aware of the legacy and footprint we're leaving for the generations following us. It's something we should all be aware of and consider." He added, "I admire Sonepar's commitment to sustainability and their aim to power progress for future generations. Their purpose aligns with positively impacting children, communities and the planet."
Simon was pivotal in recently securing funding to install EV chargers in multiple Gescan branches. He is eager to maximize the benefits for Gescan employees, suppliers and customers. He also helped form Sonepar Canada's EV Strategy Group, where members discuss industry trends and green vendor solutions, ensuring Gescan remains well-informed and adaptable to emerging industry developments to stay at the forefront of the sustainable solutions market.
Hailing from Birmingham, England, Mr. Smoldon's journey had a modest beginning. "I came to Canada to play rugby in '97 with three bags and $300.00. I got the opportunity to live and work in Canada for a year and never left." Outside of Gescan, Simon actively contributes to his community as the president of his local rugby club in Burnaby and as a mentor/resource to those who are new immigrants to Canada.
Related Article
Sonepar has announced Gescan is continuing to expand their footprint throughout western Canada and has opened their 27th branch in Nanaimo, British Columbia.