Beyond Products and Solutions: How the Transformation of Industry can be Successful in 2023 and Beyond
May 24, 2023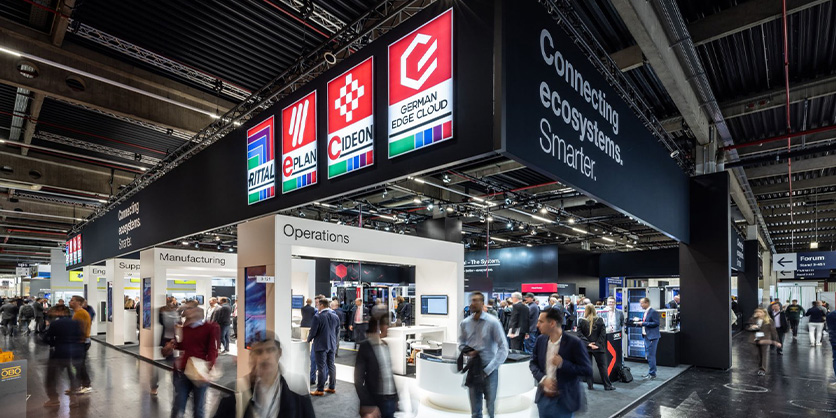 Industry is under tremendous pressure to transform. How is the manufacturing industry progressing toward smart production? How can we move from crisis management to long-term transformation in energy, efficiency and sustainability? How can we speed up the much-needed scaling up of infrastructure? How are companies countering the shortage of skilled workers? Rittal, Eplan, Cideon and German Edge Cloud discussed these questions with visitors to the Hannover Messe, showing how expertise can be used to create comprehensive solutions in the relevant ecosystems.
"The digital transformation of factories, a secure and economically viable long-term energy supply, and the establishing, measuring and reduction of industrial products' carbon footprints are major challenges that cannot be solved in isolation," says Markus Asch, CEO of Rittal International and Rittal Software Systems: "Innovation that goes beyond products and solutions is needed. We need to understand the various processes surrounding our customers' value chains, consider new ecosystems and develop overarching solutions. We are convinced that this is only possible via standardization. The Hanover Fair is the forum for industry-wide dialogue on this subject."

Markus Asch, CEO of Rittal International and Rittal Software Systems
Digital Twins for Smart Production and Power Management
One thing is clear, industrial companies are moving towards smart production – economic production with highly automated and efficient processes is required. At the same time, this must be managed in an energy-efficient way, and with flexible solutions that can be adapted to individual customer needs. And all this against the backdrop of a shortage of skilled workers. "Nowadays, real and genuine innovation simply just means making the customer's overall performance more efficient and successful," Mr. Asch says: "If we no longer think in terms of products and solutions, but rather in terms of process optimization, we can only do so by cleverly combining both hardware and software."
As enablers of smart production, Rittal, Eplan, Cideon and German Edge Cloud demonstrated at the trade fair how, in the future, it will be possible to connect the three ecosystems of automation design and engineering, product manufacturing and manufacturing processes via one respective digital twin. This will make smart production processes more transparent and efficient. Energy flows also become more transparent and can thus be optimized, a critical success factor for transforming industrial companies, both today and in the future. Prerequisite for this: complete transparency along the customers' value chains, from panel building and switchgear manufacturing to the operator.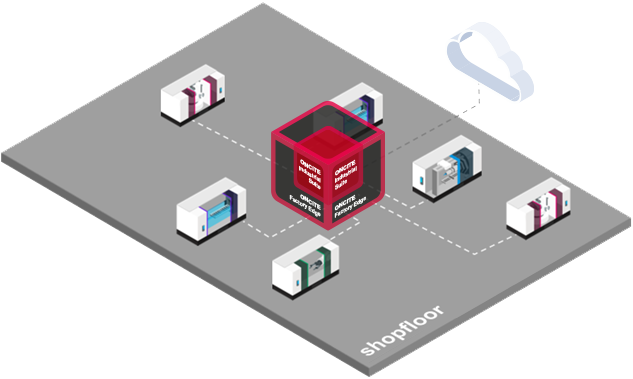 How? Eplan and Rittal are working with control, switchgear and mechanical engineering companies to speed up the development of the automation twin and to make the data more usable during operation. Cideon is improving data continuity and consistency in the digital product twin context with its CAD/CAM, PDM/PLM and product configuration expertise. The ONCITE Digital Production System is the platform for the Digital Manufacturing Twin and IIoT-based production management.
Live Insight into the Running Factory from the Trade Fair
Visitors saw how this works in practice – live and in almost real-time – at the companies' joint booth. In Rittal's smart enclosure factory in Haiger, energy monitoring has already been integrated into the ONCITE DPS digital production system; a live insight is provided – via the cloud – from the trade fair into the actual energy data of the ongoing production. The energy flows of the associated data centre can also be seen. The RiZone OTM Suite presented at the trade show is showcasing how to manage data centre operating technology. Here, Rittal will be using what its sister company German Edge Cloud has developed and offers to customers: The new Rittal software is based on the ONCITE DPS's flexible microservices architecture.
More Speed to Transform the Energy Infrastructure
But it is not only manufacturing that faces the challenge of monitoring and managing energy differently in the future. The entire energy sector is also under tremendous pressure to act and cut costs. The expansion of this infrastructure must transform to meet industry requirements. One thing is clear for Eplan and Rittal: The critical factor is the industrialization of the entire process chain, combining both software and hardware.
"Modularization, standardization and data consistency are our driving principles," explains Markus Asch: "Rittal's and Eplan's experience with our customers from the control, switchgear and mechanical engineering sectors has shown that there is considerable potential for optimizing and industrializing process chains. Furthermore, end-to-end hardware and software solutions increase the pace of infrastructure expansion – from energy generation and storage to grid expansion and sector coupling to charging facilities for electric vehicles. The efficiency gain reduces costs, while the data, as the automation twin, opens up further possibilities for use in operation."

Markus Asch, CEO of Rittal International and Rittal Software Systems
New Base Solutions, Platform Updates and Enclosures
This all requires swift action and solutions which is why Eplan and Rittal tackled this at the Hanover Fair using the new "Base Solutions". With many customer projects successfully completed, the two companies have jointly created "Best Practice Templates," like, for example with the planning and implementation of charging parks for e-mobility vehicles. This transforms the project via data-consistent standards and modules. The new Eplan Platform 2024 also further simplifies design and engineering. And, furthermore: Rittal also presented a new plastic AX enclosure, with EX approval, for potentially explosive areas of the infrastructure, for example, around liquid natural gas (LNG) or hydrogen.