MCEE EXPO 2023, It's Back and Better than Ever
April 10, 2023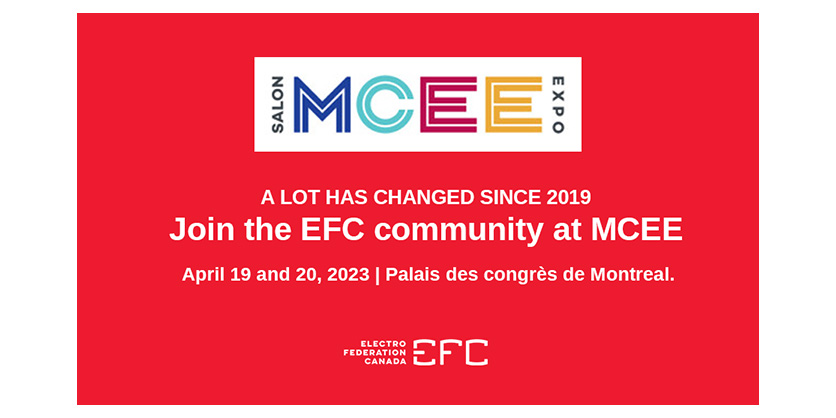 April 19 and 20, 2023, Palais des congress de Montreal
EFC is proud to partner with the Corporation of Master Electricians of Quebec (CMEQ) at this year's MCEE. The EXPO is Canada's biggest plumbing, HVACR, hydronic, electrical, and lighting expo.
MCEE is a platform for exhibitors to meet current customers, find new sales leads, increase brand awareness, and increase sales.
Are you exhibiting at the EXPO and want more visibility at the show?
Exclusive marketing media packages are offered to EFC member companies who participate. Contact Daniela De Marco, ddemarco@electrofed.com, to participate in the conference experience opportunities or for marketing and media packages.
+ 6000 buyers and industry decision-makers
+ 70% of visitors buy MCEE trade show supplier products
+ 71% of visitors make new purchases within 12 months of attending
+ 84% of entrepreneurs say they buy their products after seeing them at the expo
When
Apr 19, 2023 – Apr 20, 2023     All Daywebcal
Visit the expo webpage for more information: https://mcee.ca/