Lambert & Fils: Artisans with Hands of Gold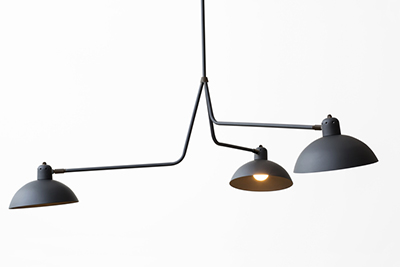 April 6 2016
Lambert & Fils, a collaborative lighting design studio based in Montreal, was founded in 2010 by Samuel Lambert. The firm's designers create minimalist and classical luminaires. The designers are inspired by their surroundings, from the industrial era to modernism, whether through children's toys or nature.
In addition, all luminaires are designed and produced in Montreal by local artisans. Each craftsman puts a great deal of care into making luminaires in order to produce the most perfect piece that it can be. Since each luminaire is made by hand, it's possible that there may be unique finishing variations from one luminaire to another.
Photo credit: Lambert & Fils
The raw material used is raw brass because, according to Lambert & Fils, brass is at its best when it develops a patina with age. This means that the appearance of a light fixture containing parts in brass will change over time. The Lambert & Fils team states that everything is intentional, and not a manufacturing defect.
Do you have special needs? The Lambert & Fils team offers the opportunity to make adjustments to light fixtures to meet individual requirements. Whether for a restaurant or home project, the luminaires can be adapted to meet the space constraints of the projects.
The team presents on their website new designs as well as their creators, alongside those of Lambert & Fils, in a spirit of exchange of ideas and creative exploration. Lambert & Fils wishes to promote the independent design community.
Find out more: www.lambertetfils.com/.