New Housing Construction up 5% in May YOY
July 27, 2016
The increase at the national level came mainly from higher investment in apartment and apartment-condominium building construction, up 17.2% year over year to $1.5 billion. Spending on row house construction also contributed to the advance, up 13.4% to $454 million.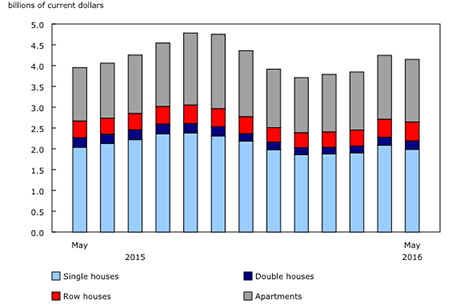 In contrast, investment in single-family dwellings was $2.0 billion, 2.6% lower than in May 2015, while spending on semi-detached dwelling construction declined 10.7% to $206 million.
At the provincial level, the largest increases in new housing investment were recorded in Ontario and British Columbia.
In Ontario, investment rose 24.3% from the same month a year earlier to $1.7 billion in May. The increase resulted from higher construction spending on all dwelling types. Construction investment in single-family dwellings led the advance, rising 25.8% to $886 million.
Spending in British Columbia increased 31.9% year over year to $937 million in May. This gain was attributable to higher spending on apartment and apartment-condominium buildings, single-family dwellings and row houses. Construction spending for semi-detached buildings declined.
Investment in new housing construction fell in six provinces in May compared with May 2015, with Alberta, Saskatchewan and Quebec registering the largest decreases. Spending was down 31.4% to $653 million in Alberta, the 11th consecutive month of year-over-year decline.
Source: Statistics Canada, http://www.statcan.gc.ca/daily-quotidien/160721/dq160721c-eng.htm.