Floor heating: A Flexible, Safe And Hassle-Free Solution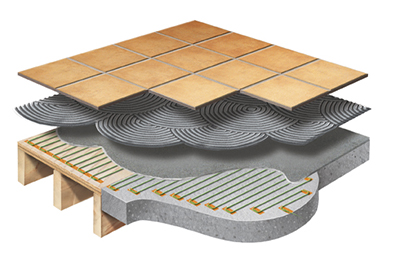 September 22, 2016
Summer is becoming a distant memory. The leaves are changing and pumpkin lattes have returned. Despite the beautiful scenery it offers, fall also comes with its usual irritants, including cold bathroom floors in the wee hours of the morning.
Photo credit: Flextherm
Heated floors are the ideal solution and promise exceptional comfort. Once considered a luxury reserved for lavish homes, the popularity of electric floor heating systems has been growing constantly over the last decades not only because of their affordability, but because of increased awareness as more and more people experience them and want them in their own home. For installers, they represent a relatively easy sale and a quick and simple installation; for end users, they represent a feature they will brag about for years to come.
Electric floor heating systems rely on sturdy yet flexible electrical resistance heating elements wrapped in layers of insulation, copper braiding and a polymer jacket. These floor heating cables can either be installed directly onto a subfloor or embedded in a concrete slab, held in place using gauges, or are laid and secured on mats which are installed over the subfloor or the insulation over which the concrete slab is poured. Cables on subfloors are then covered with mortar or a self-leveller before the floor covering is installed.
While traditional heating systems (E.G., baseboards, forced air systems) pump hot air, which rises naturally toward the ceiling where it gathers, thus drying the air and substantially increasing energy bills, electric floor heating systems work differently.
Controlled by thermostats with a floor sensor probe installed in the floor, floor heating systems, through radiation, not only heat the floor covering, but use the solid mass of the floor to store heat, which then radiates from the floor spreading evenly throughout the room to any solid surface. Radiant heating can be compared to the sun. When the sun's rays hit rocks, asphalt and other elements, the heat is absorbed and accumulated by these objects, which in turn then radiates back from these elements, even when it is cold outside.
Versatility and safety
Floor heating systems are easily installed in entire homes or in single rooms. They are suitable for garages, solariums and other spaces since they maintain a stable temperature despite the fenestration and constant coming and going (contrary to forced air systems, where warm air easily escapes through openings). They are also a great choice for schools, businesses, hospitals, etc. since unlike baseboards and heating systems with vents, floor heating systems have no visible components except for the thermostat on the wall, which means that furniture and equipment can be positioned anywhere.
While most manufacturers offer 120V and 240V systems, Canadian manufacturer Flextherm is one of the few companies to also offer its heating systems in 208V, making them perfectly suitable for large projects such as hotels and condo towers.
Since heating cables and mats are embedded in concrete and are therefore in an oxygen-free environment, if a spark did happen to occur, there is absolutely no risk of fire. Thermostats and expansion units used to operate and control floor heating systems are equipped with a 5 mA ground fault circuit interrupter (GFCI), which monitors the amount of electricity that flows from hot to neutral. If the device detects an imbalance, it trips the circuit to prevent any shock or electrocution.
Although users regularly set them at around 22°C, floor heating thermostats can usually reach a maximum set between 30 and 40°C. This limit helps prevent the floor covering from becoming too hot as excessive heat could cause discomfort for occupants in the room.
The question of electromagnetic fields (EMFs) often comes up when addressing electric systems. A good heating cable or mat must be built in a way that eliminates EMFs. Since there is no regulation in North America that forces manufacturers to provide products free of electromagnetic fields, it is up to the manufacturer to offer this feature. All cables and mats produced by the manufacturer Flextherm, for example, are paired and twisted in a way that reduces EMFs to insignificant levels.
Best practices
The installation of a floor heating system should never be compromised; while a sink or drapes can easily be changed any time according to style, trends, or when the budget permits, most flooring stays in place for many years, so if the opportunity isn't seized while the flooring is being redone, chances are that the opportunity is lost. And a floor heating system is typically guaranteed for over 20 years, so once it's installed, it's there to last and provide a new level of comfort for many years to come.
Before starting the installation, the cable insulation and resistance should be verified using a multimeter and megohmmeter to ensure the cable's integrity. These tests should be carried out before, during and after the installation to make sure that no damage was caused to the cable during the different stages of the installation.
Planning the installation is key. The old "measure twice, cut once" saying applies to floor heating systems, as a floor heating cable cannot be cut. Cutting the cable would change its output and void its warranty. For safety reasons, any extra cable length must never be installed in walls, and for comfort reasons it should always be installed at a regular spacing throughout installation to ensure even heat.
In order to take accurate measurements, installers must calculate the complete floor surface and then deduct fixed objects such as cupboards, kitchen islands, toilets, etc. Heating cables cannot be installed under fixed objects and while they can be installed in showers, a separate cable with its own thermostat must be installed according to the building code. This will help prevent having to rip out the floor heating system throughout the entire bathroom if a shower leak occurs and waterproofing needs to beredone.
Installers must foresee the location of buffer zones. As the cable is usually a bit shorter than the total surface to be covered, installers will make sure that circulation zones are completely covered by the heating system and finish the installation in buffer zones where users do not typically step (behind a door, on the side of a toilet, etc.).
The location of the floor sensor probe must also be well thought out. As it will have the responsibility of measuring the actual temperature of the floor so that the thermostat can accurately control the floor heating system, it is important to install the probe in an area that will not be influenced by external factors (placed under a carpet or in a spot where sunrays directly beam through windows).
Hassle-free… with the right product
As they require no complicated components during installation and no maintenance once installed, electric floor heating systems are virtually hassle-free. However, not all products are created equal and installers should always opt for products built by a manufacturer that has a strong reputation in the market and that guarantees the quality of its products through vigorous quality controls and a solid warranty. Local manufacturers build products that are suited to local weather and abide to strict regulations.
Always favour companies with renowned customer service with specialists who can answer questions, provide advice in terms of product selection and support installers during installation.
---
Isabelle Marcil joined the Flextherm team as Communications Coordinator seven years ago. A former journalist and translator, her objective is to help individuals discover the many benefits of floor heating systems through various communication tools.