Nyx Hemera Technologies: Intelligent Lighting for Dark Tunnels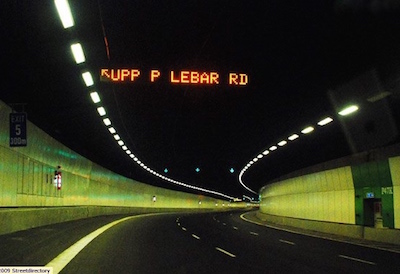 January 20, 2017
New York City's Queens-Midtown tunnel is the latest lighting project to be undertaken by Quebec City's Nyx Hemera Technologies, which provides flexible and intelligent lighting control systems for roads tunnels. The company's flagship solution is the Tunnel Lighting Addressable Control System (TLACS).
TLACS is the second phase of a control system already installed in one of the longest tunnels in the world, the Kallang-Paya Lebar Expressway in Singapore (shown in photo). The system has since been installed in a second tunnel in Singapore.
In total, the system is at work in 30 tunnels around the world, located in Singapore, Spain, the Middle-East, Peru, USA, and Canada.
TLACS will be installed in the 2 km Queens-Midtown tunnel once repairs to damage caused by Hurricane Sandy in 2012 are completed. The TLACS solution will facilitate the installation of the new tunnel lighting system, thanks to power line communication technology used to control luminaires. The technology does not require the installation of control wiring, and will help to save hundred thousands of dollars in wires, conduits and connectors as the communication to control the luminaires will be on the existing electrical wires that supply electricity.
The TLACS' Local Product Controller (LPC), installed in both Shréder's OMNIstar and LEDNova luminaires, will turn on/off and dim up and down the luminaires at the tunnel entrance to reduce the black hole effect. It will also control the lighting in the tunnel to achieve a safe and comfortable lumen output for drivers. The TLACS will also help the operator save even more energy, courtesy of LED luminaires as well as dynamic control of the luminaires.
Nyx Hemera Technologies will also provide a dedicated SCADA for the lighting system. This will help the Metropolitan Transportation Authority — Bridges and Tunnels (MTABT) in its day-to-day operations as the authority will be able to remotely and individually monitor all 2000+ luminaires and maintain better control over the entire lighting system.
The company's name is drawn from Greek mythology. The words Nyx and Hemera represent shadow and light: Nyx is the goddess of the night; Hemera, the goddess of the day.
Although the company was founded in 2008, its employees have long-running expertise in power line communication. With this seasoned and dynamic team spearheading its growth, Nyx Hemera Technologies continuously looks for new solutions that will improve the company's core technology and solutions as well as tunnel operators' service and operations.
Find out more: www.nyx-hemera.com.