Electrical Industry Canada Digs Deep with Redpath Mining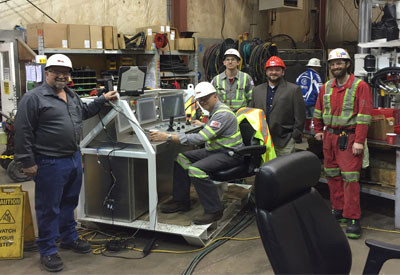 By: Owen Hurst
The Redpath Group of mining contractors and engineers, was established by Jim Redpath in 1962, and has since grown into one of the leading mine contractors worldwide. Headquartered in North Bay, Ontario, the Group includes Redpath Raiseboring Limited that provides raisedrill design, manufacturing and contracting expertise to its global customers. In order to fulfill today's brisk orders for raise drills, streamlined production is paramount, and Redpath and its devoted employees are up to the task.
On March 29, 2017, I had the unique opportunity to go on site at Redpath's raisedrill manufacturing facility to witness a torque test being performed on one of their newly built Redbore 90 drills. It was a unique opportunity to see Redpath's team of electricians working side by side with engineers and mechanics, who each play a vital role in the design, manufacturing and testing processes for every Redpath drill.
The electrical team is led by Master Electrician, Dieter von Doeler, Redpath's Electrical Superintendent (seated at the console). Dieter entered the industry in 1989 and has been with Redpath since 1990. He leads a team of six electricians, and regularly works with apprentices, who often continue their work with Redpath. The team includes, Bradley Toner, Randy Scott, Mike Kelly Jr., Jackie Jennings, Doug Crawford and Wayde Bowyer.
Working with apprentices is a key succession strategy for Redpath, as the company prepares its new wave of electricians already versed on the various skills needed to work in the mining industry. Electricians need to know more than just the electrical components and controls. They also need to work with and understand the roles of engineers and mechanics throughout the design, manufacturing and implementation process, all focused on the end goal of client satisfaction.
I spoke to Wayde Bowyer, a young electrician who began his apprenticeship with Redpath, and last month, acquired his license. When asked about what it was like completing his apprenticeship with Redpath, he had great things to say about how supportive they were throughout the apprenticeship process, and now as a full-time electrician. I asked Wayde what the best thing about working at Redpath was. His answer was instantaneous, "Redpath is always evolving and pushing forward with cutting edge technology which means the work is always fresh and challenging."
It was apparent to me, from the daily morning safety huddle that brings each department together, that Redpath has an efficient team that is well-oiled. Throughout the torque testing phase, the various divisions worked together effortlessly. Every member was highly focused on the task and ensured everyone was aware of what was going on. There was substantial focus on safety and procedures are in place to protect both workers and the equipment. I was amazed by how seamlessly they worked together, each knowing their task, right down to locking and tagging equipment to ensure it is off before any work is begun. The Redpath Safety Program is a comprehensive world-class system based on proactive initiatives with demonstrated success, and includes 15 elements, of which the 5 Point Safety System is key.
A challenge with building mining equipment, and particularly the intricate electrical controls required for raise drills, is the location the equipment will operate in. First, they must be able to fit inside mine shafts, which on its own, is no easy task. The drills are often disassembled to fit into shafts, then reassembled at the work site. Second, drill components must stand up to wet and dusty conditions and the intense vibrations caused by rock drilling. Drills manufactured by Redpath operate all over the world in some of the harshest conditions imaginable including Arctic, desert and rainforest climates. Redpath's electricians, engineers and mechanics need flawless communication to be sure every component meets the required specifications per drill.
I also need to give special thanks to Mike Giesler (left in the picture), Chief Designer at Redpath Raiseboring Limited, for arranging my visit and giving me the grand tour of their extensive facility.
Redpathmining.com