Paul Hannania, Panel Upgrade Experts, Calgary, AB — Fastest Professional Electrician, Canada West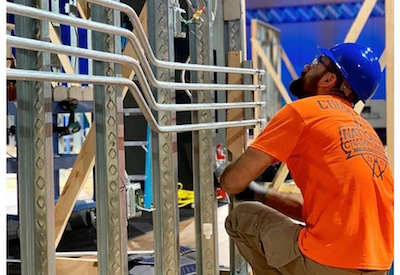 Jan 14, 2019
By Line Goyette
After eight months, 263 events, 17 broken clocks, and thousands of competitors, Ideal Industries' 2018 National Championship Qualifying Round in Canada came to an end last October, and the Third Annual Ideal National Skills Competition took place December 1-3 in Orlando, Florida. The competition brought together some of the best electricians from across North America.
This marked the first Ideal National Championship that had been extended to Canadian competitors. In all, nearly 40,000 electricians across North America took part in local timed competitions organized by Ideal Industries. From these 40,000, a professional representative and apprentice were selected from each state, as well as from both Western and Eastern Canada based on their times. A team comprising one professional and one apprentice were also selected from each area.
Paul Hannania, from Calgary, won the fastest professional electrician for Canada West and made it into the second round of the National Championship in Orlando. "I progressed to the second round, maybe not fast enough [to win], but I finished it. It is not always easy working with new tools that may not always work exactly as expected." For those watching him, he did an incredible job aligning the pipes before pulling the wires in.
Paul has dual Canadian and U.K. citizenship, and dual certification as an electrician. Born in Calgary from parents who had emigrated from England, they returned to live there while Paul was still a young child. He learned the trade with his father.
"My father has his own business, I did my apprenticeship with him, and at one point I decided to come back to Calgary."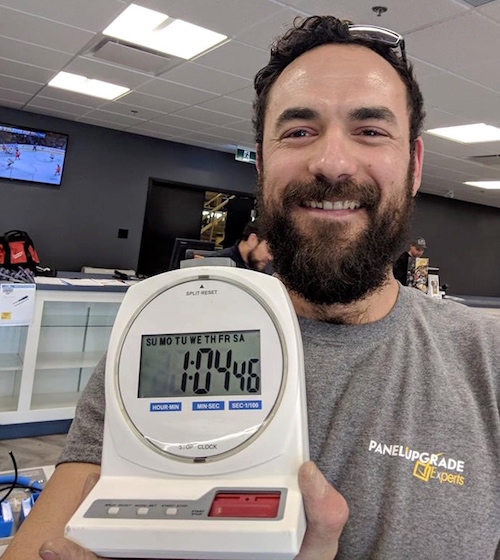 When Paul was younger, he wanted to be a carpenter but quickly realized that in England, at least, he saw a better opportunity in the electrical industry.
"My parents had friends in Calgary and we had kept in touch. I always kept a connection with that town while I was growing up in England. I followed the Olympics, it was my home." It has now been 10 years ago since he resettled in Calgary and is very happy there. "I worked with different companies and I had to do the Red Seal exams."
Five years ago Paul founded his own business because, he says, he likes to do things his own way. "I really enjoy the customer liaison, meeting the customer, the business aspect of my job."
Before earning his Red Seal certification, Paul had founded another company and laughingly confesses to having made many mistakes, which allowed him to learn a lot, and quickly, about how to manage a small business. "I learned that marketing is everything. Your presence online says a lot about you, and good customer reviews are the best marketing tools you could have. Customer satisfaction is the most important thing."
Having worked for 10 years as an electrician in England before relocating to Canada, Paul finds that when talking about electricity the differences between the two countries are small. "The wiring is a bit more technical, voltage is different, but this is not important." His professional transition has worked well.
"The biggest change was running my business. Now deadlines are more important, finishing things on time is important. Safety requirements have increased and safety is now more stringent."
A Tesla-recommended installer for the company's electric vehicle chargers in Calgary (he's Calgary's leading installer of Tesla chargers), interested in solar energy and everything that revolves around the electrical panel, at the age of 37 Paul is not just exceptionally fast and proficient as an electrician, he is also an inspiring young leader. Visit his company website.
Learn more about Ideal Industries' National Championship
Line Goyette is Managing Editor of EIN; linegoyette@kerrwil.com