Fastest Apprentice/Student, Canada West — Mateo Berrio, NAIT, Edmonton, AB
Mar 11, 2019
By Line Goyette
After eight months, 263 events, 17 broken clocks, and thousands of competitors, Ideal Industries' 2018 National Championship Qualifying Round in Canada came to an end last October, and the Third Annual Ideal National Skills Competition took place December 1-3 in Orlando, Florida. The competition brought together some of the best electricians from across North America.
This marked the first Ideal National Championship that had been extended to Canadian competitors. In all, nearly 40,000 electricians across North America took part in local timed competitions organized by Ideal Industries. From these 40,000, a professional representative and apprentice were selected from each state, as well as from both Western and Eastern Canada based on their times. A team comprising one professional and one apprentice were also selected from each area.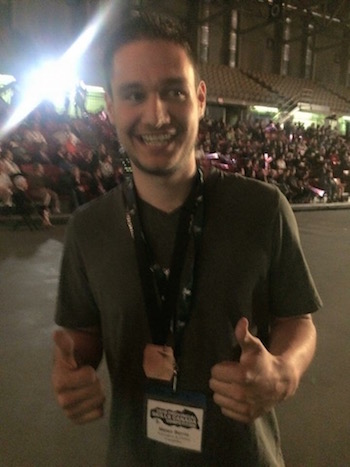 During the competition Mateo Berrio couldn't help but feel nervous working in front of a big crowd, not to mention the TV camera crews circling the electricians as they worked. He is a fourth year apprentice, studying at the Northern Alberta Institute of Technology (NAIT). Mateo arrived in Canada from Colombia at the age of 10 with his mother. He had no plan for a career in trade until he entered a registered apprentice program at high school and got then what he describes as the amazing opportunity to become an electrician.
"I love new experiences and electrical provides this to me. It's a way to work with your hands and your head. It is an industry where you learn new things every day. I never thought of electricity before I started my apprenticeship as a career. I just had this incredible chance and as soon as I started my schooling, I knew I was at the right place and I am always happy to go to work."
Mateo's enthusiasm for his trade doesn't mean things were or are always easy. "At the beginning it was heavy learning. I was learning new things every day, all the time, but I put myself into it because I want to be the best and this is why I'm here at the Ideal competition." He said that as soon as he saw a poster for the contest at his distributor, he wanted to be part of the competition. "These guys here are the most passionate. We don't just want to be an electrician, we want to be the best one. It's a lifestyle."
For Mateo, there's always been a challenge in his trade. "I arrived in Canada at the age of 10 and English is not my first language and the Code is very challenging — it's difficult to read. So, you have to ask people to help you, you can't be too proud."
The competition proved to be more difficult than he expected. "No matter how good you think you are there is always room to grow. It makes me feel good that they are better people than me because they can teach me how to progress." As our conversation wound up, I reminded him that he had finished first in his category for Canada West.
After the competition, Mateo continued his training and joined his mentor at Optics lighting in Edmonton.
Learn more about Ideal Industries' 2018 National Championship: www.electricalindustry.ca/changing-scenes/4091-ideal-industries-inc-national-championship-kicks-off-in-canada-and-the-u-s, and follow coverage of the 2019 championship in EIN.