Going the Extra Mile with Stanson Electric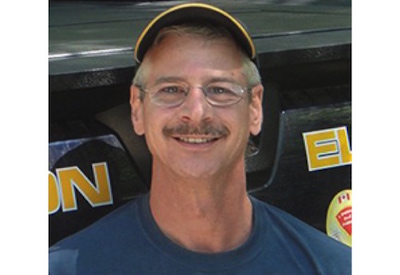 Mar 25, 2019
By Blake Marchand
Matt Stanson is a master electrician with over 30 years of experience. He now leads a team of skilled, trained and experienced electricians with his company, Stanson Electric.
Matt served his country overseas with NATO as a Canadian Army reservist, distinguishing himself to such a degree that he was invited to enter the Officer Training Program. During that same period — three decades ago — a master electrician and respected Kitchener, Ontario businessman recognized Matt's strong leadership capabilities and integrity. He subsequently offered Matt a mentorship in the electrical trade, as well as in business.
Under his mentor, Stanson was able to develop his skills as manager becoming a business owner as well as a master electrician. Now he instructs his apprentices and journeymen with the gentle but demanding attention to detail with which he was mentored.
Matt started Stanson Electric in 1983 and it has remained a family owned, community oriented, customer first business that, as their website states, is willing to go the extra mile, even if that means travelling world wide. Although, there has been "no major travelling yet!", Stanson Electric told Electrical Industry Canada that Matt's always open to the possibility. His military history, and simply his plain delight in getting his hands into an interesting electrical project means he's always willing to discuss any opportunities that may arise.
Stanson explained that his employees — the electricians, apprentices, journeyman, and office staff — are treated as part of his extended family. Matt's eldest son, Tom, joined the team in the last year and is helping transition the company into the modern landscape. And you will notice by visiting https://stansonelectric.com, they have a detailed website and a prominent social media presence.
What is a typical job like for Stanson Electric? What sectors do you typically work in?
We work in multiple sectors, primarily supporting residential, property management and light commercial. A typical job can be anything from doing a suite turn to bring a unit up to date and up to code for an apartment building, through to investigating and providing solutions for retail stores to help them save energy through money-saving lighting and electrical technology.
How has your business evolved since its inception? Has new technology or any industry advancements altered the way you do business?
When we started, paper was king. LED has changed the way we do business. We can help customers provide the same or better lighting options for a fraction of the electrical cost.
From a business perspective, we now take advantage of tools that let us share information, projects and photos between our electricians in the field and the office in real time, meaning we can support our customers better and faster than ever before.
Can you tell us about a project that you found particularly interesting, unique, or rewarding?
Imagine for a moment, it's Boxing Day. An entire Walmart store is without power. Holiday sales are being lost left and right. Their outdoor main substation had failed.
As you can imagine, our staff was on holidays. Matt calls in the team for this emergency call. Our amazing suppliers come off holiday and mobilize to bring us what we need: an emergency delivery from Toronto of a 53-foot trailer with a diesel back-up power generator large enough to run the entire Walmart store. The store is open for business 16 hours later.
Stanson employees and partner companies work 72 hours straight to replace the failed substation. An emergency Electrical Safety Authority inspection has the store back on the city power grid in three days.
A Walmart head office executive flies in from the USA to monitor progress: "It usually takes 7 to 10 days to return a store with a failed substation onto city power.
Stanson Electric had our store operational on interim power in 16 hours, and fully online with city power in 3 days, during a holiday period — amazing!"
Painstaking photographic documentation and a full report issued by Stanson Electric enabled the Walmart store to obtain complete reimbursement of costs without protest from head office.
From what I understand, Ontario has a fairly progressive building code with respect to energy efficiency. Is that the case? If so, what are some of the aspects that make it progressive?
Government spending in the last 15 years offered substantial grants and opportunities to update electrical systems — solar, wind, power factor correction — in residential, commercial and industrial. The current government is rolling some of that back, but as we stated LED is the current best opportunity for energy savings and longevity for the product itself.
What would you say to a homeowner or business owner who would like to make their home/business more energy efficient, but is sceptical of cost/benefit/ROI?
Fastest, easiest, best ROI would be updating all lighting to LED. A standard 8′ fluorescent ballast can be drawing up to 200W per fixture. The same size ballast, only LED, draws 18W. That's for a single fixture. Multiply that by an entire building and that can be a significant savings.
What is the right question? Is there anything I didn't touch on that you think our readers would find helpful?
What makes someone the right electrician? Finding the right contractor is a matter of fit. Ensuring the expertise, approach to supporting the customer and yes, even price, to match your needs and expectations is an important part of finding the right electrician. We work hard to be the best at what we do, at a fair price, and we'll always come right away if there's an emergency. They say honesty is the best policy. For us, it's the only one.
As described above with the emergency Wal-Mart project, Matt Stanson and his team at Stanson Electric are willing to go that extra mile to meet the needs of their clients. This operative, along with their upfront and honest approach providing realistic timelines and budgets, have been key aspects to the success of their company. Stanson Electric operates primarily within the Waterloo and surrounding area. They provide design, installation, maintenance, and repair in the residential, commercial, industrial, and manufacturing sectors of the industry.
Blake Marchand is Assistant Editor, Drives & Controls Solutions.