Marcia Ranger: A Teaching Perspective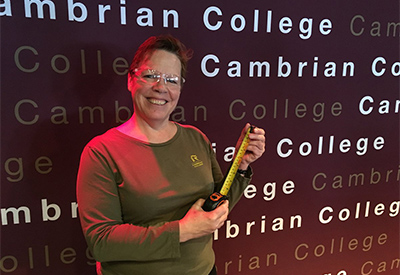 July 8, 2019
By Blake Marchand
Marcia Ranger is a master construction and maintenance electrician, as well as a college professor at Cambrian College in Sudbury, Ontario under the Electrical Engineering Technician program. She went back to school at Cambrian College in her early thirties, where she completed the Electrical Techniques program. Marcia then apprenticed with the International Brotherhood of Electrical Workers Local 1687 in Northeastern Ontario.
Electrical Industry Canada caught up with Marcia to gain insight into her perspective as an industry professional and educator.
"I have worked all over Ontario and in Manitoba, on all kinds of commercial and industrial work sites," she said, although eventually traveling and working away from home wasn't the most ideal situation for her, particularly as a single mother.
"At some point I found that I was quite good at helping/teaching others on the job, and I decided to apply to become a college professor," she said.
Below, Marcia discusses some of the challenges associated with her role in the industry, as well as touching on some of the ways she engages her students, particularly when teaching some of the more technical areas like the Canadian Electrical Code.
Marcia also touches on the importance of lifelong learning as a concept that must be embraced by both educators and students, as well as the value of hands on experience. One of the ways her work as an electrician has influenced her teaching career is the importance of hands-on work and one-on-one instruction. No matter ho much intensive classroom training you receive, you cannot replicate the quality of experience the field provides, and the challenges that may arise.
As an electrical engineering instructor today, do you see many differences between the way you were taught and how you teach? Do you find that your field experiences have influenced how you teach your students? What are some of the challenges in being an electrical engineering instructor today?
Technology in teaching has come a long way from chalkboards and overhead transparencies. Now we are using PowerPoint for consistency and continuity between different class groups, and on-line learning management systems to enable our students to access the information they require, submit assignments, read textbooks electronically, and communicate with us. Because of all of the different learning styles of students, it is challenging to hit on as many ways as possible, to share the information with them in and out of class. Smart phones are used often to answer quick class-related questions or refer to documents. Electrical drawings are done in AutoCAD (compared to me doing them with coloured pencil crayons, in my past).
Definitely, the learning I did in the field as an electrician has made me aware of the need for as much hands-on and one-on-one teaching as possible. The other challenge for me is that, although I have taught many different courses in this program, from Shop to Motor Controls to Electronics, I am currently teaching the Electrical Code, which can be dry and boring, and hard to interpret. To make the class as interactive and interesting as possible, I need to bring in show-and-tell items and show videos and do lots of code searches.
By the time they are finished third year at Cambrian, our students have advanced from 120/240 V household circuits and design, to 600 V industrial motors and controls. Those able to find electrical work part time or through co-ops will have had some amazing hands-on experiences to reinforce their new knowledge.
Are there any interesting or unique stories you could share about your experience as an instructor?
All professors definitely have to do professional development to keep up with changing technology and industry trends (for example, I just completed a course on renewable energy systems and the Canadian Electrical Code). It's important to make sure we are teaching the most up-to-date information, and right now that includes battery-powered vehicles, renewable energy systems, programmable logic controllers, robots, variable frequency drives, and lots of electronics.
One of my favourite things to do is to take pictures of bad electrical installations when I see them, and show them at the start of class. One of the assignments that I give them involves them doing a home inspection on their own house or place of employment, to find and report on non-code-compliant electrical issues. This really opens their eyes and lets them apply their code knowledge to real life, and they can see how easily a poor electrical installation can translate into fire or shock.
What would you say to a student coming out of your program looking for advice on their career, whether that's entering the workforce or continuing their education?
Cambrian College's Electrical Engineering Program is not just about the design aspect, it is also recognized by the Ministry of Training, Colleges and Universities as the equivalent to electrical trade school. This means that, in addition to jobs in the electrical engineering sector, our graduates are able to seek employment as electrical apprentices. The teaching of both engineering and the trade make for a very broad range of abilities and job opportunities.
I advise students to apply for every possible opportunity, and to not be afraid to travel to another city or province, or even another country, to get experience. Our graduates end up in all kinds of different areas of work, such as engineering and electrical design, manufacturing, programming, electrical apprenticeship, renewable energy, electrical distribution, telecommunications, fire alarms, heating, ventilation and air conditioning, and Instrumentation.
Today's students/graduates may be straight out of high school, from another country, indigenous, and/or mature/second career. All will hopefully find a career that is related to the Electrical Engineering diploma they have earned. Wherever they end up, there will always be more courses to take and new things to learn = Lifelong Learning.
Blake Marchand is Assistant Editor, Panel Builder & Systems Integrator.