Section 62: Fixed Electric Heating Systems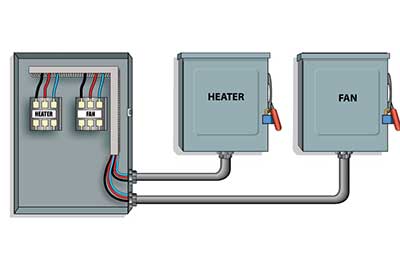 December 17. 2015
Users of the Canadian Electrical Code, 23rd edition will see a completely re-written Section 62 covering fixed electric heating systems. Advances in new heating technologies as well as increases in electric heating efficiency at the point of use have seen growth in industrial, commercial and residential applications. Changes to Section 62 include these new applications as well as a complete re-organizing of existing requirements. Rules that duplicated requirements or were repeated for different installations have been combined.Significant entries have also been included within Appendix B to assist with clarification.This article will attempt to simplify the requirements and illustrate the total overall change within Section 62.
Heating technology
Fixed electric space heating refers to the application of providing heat to an enclosed space or room for the comfort of persons or animals, or simply to maintain a specific temperature required by products stored within that room.Electric heaters provide heat in a room by radiation, conduction or convection.Understanding these heating methods helps to understand installation requirements, including clearances.
Radiant heating is heat energy transferred in the form of electro magnetic radiation. A common example is the warmth of the sun.Fixtures generating radiant heat will have very specific clearances from combustible and non-combustible materials.
Convection heating is simply the movement of heat by air. This is also known as forced air. However, not all convection heating is forced air. The natural movement of air over a heating element causes hot air to rise within a room. The heated or hot air will eventually cool and fall back down to the floor, circulating through the heater and repeating this cycle.Fixtures producing convection heat will also have specific clearances from combustible and non-combustible materials.
Conduction heating is the transfer of heat energy between objects that are in physical contact with each other.This type of heating is common in industrial applications where tanks, piping and vessels must be heated to ensure their contents do not freeze.These heating technologies will have virtually no clearance requirements from the surfaces they are designed to heat. However, clearances from other adjacent surfaces may need to be observed.Additionally, a maximum temperature limit will come in to play with some applications.
Section 62: scope
Revisions to the scope of Section 62 now include all fixed heaters, including fixed electric space heating systems for rooms and similar areas, fixed surface heating systems, and fixed heating that is not considered as space heating or surface heating.Examples of these three heating systems have been tabulated and are listed in the Appendix B note to Rule 62-000 and include:
• central heating units
• baseboard heaters
• radiant heaters
• wall and ceiling heaters
• floor warming heaters
• pipe heating
• storage tank or vessel heating
• snow and/or ice melting
• Skin effect heating
• pipe internal heaters, often referred to as "gut" heating
• immersion heaters
• hot water tanks
General (100 Series) Rules
Several changes have been made to the General Rules (100 Series) of Section 62.Rules of a general nature that were scattered throughout the section have all been consolidated.Additionally, several rules that repeated themselves in the previous edition CE Code have been rewritten once for clarity.This simplifies the meaning and lets code users know that the rules specified under the General Rules apply to all heating installations except where otherwise specified.The following is a summary of the changes to the General Rules, 62-102 to 62-128.
• Heating devices shall be assembled and installed "following manufacturer instructions."This is stated just once as opposed to several times as in previous editions of the code, Rule 62-102(1).
• CE Code Part ll standards require electrically conductive coverings, braids, etc. on all heaters. Rule 62-102(2) requires that these coverings be bonded to ground.
• Special Terminology (62-104 Definitions) includes standardized cable and panel definitions, and has changed "Fixture" to "Heating fixture."The generic term "Heating device" includes all heaters and has added definitions forbare element water heater, dielectric heating, impedance heating, induction heating, and skin effect trace heating.
• Wet conditions are stated in AppendixB Note to Rule 62-106 as concrete slabs or masonry in direct contact with earth or drains, e.g., showers,but not where isolation measures are installed, e.g., a membrane.
• One requirement has been set for maximum temperature adjacent to combustible materials: 90oC, Rule 62-112.
• The previous requirement not allowing a flammable fluid to be heated above its flash point (62-118(3)) has been deleted.
• All ground fault protection requirements were consolidated into one general rule, (62-116), with exemptions for industrial establishments under certain conditions. Additional exemptions apply to heaters on Class 1 extra-low-voltage power circuits with an ungrounded secondary isolating transformer.
• A demand factor relaxation was added for cyclic loads.
• Updates were made to field repair, modification or assembly of series heating cable sets(62-126).
Space heating (200 Series)
These rules (62-200 to 62-222) have also seen several changes with edits tobetter match the topic area. The rules cover fixed electric space heating systems for heating rooms and similar areas, and now recognize surface heaters and wall heating. One of the significant changes includes the addition of Table 67, which identifies clearance requirements of installed heating systems. Temperature limits shown in Table 67 were derived from the Maximum Temperature Table in C22.2 No. 130, reproduced in Appendix B. Additionally, five diagrams (B62-1 to B62-5) were added to Appendix B,illustrating examples of clearances in residential applications. The maximum temperatures for heater contact with materials are
• 150oC for masonry, concrete, etc., 62-210(2)
• 90oC for combustible material, 62-112
The requirements for sauna heaters have also been included within the 200 Series (62-222) with a few changes.
Surface heating (300 Series)
The 300 series of rules (62-300 to 62-314) covers fixed surface heating systems for pipe heating, melting of snow or ice on roofs or concrete or asphalt surfaces, soil heating, and similar applications other than space heating. Substantial changes were made to applications of heating systems under sidewalks, driveways, and similar areas whereby the non-safety requirements (clearances, separations, wattages, etc.) associated with these installations were moved to the informative Appendix B, leaving the rules to address the safety related requirements. Other notable changes include:
• The 90oC Max Temp. requirement changed, applyingonly to adjacent combustible materials and now in the General (100) section.
• 750 V limit for parallel cables has been deleted (this is covered in the product standard).
• The requirement for marking has been changed to requirements for caution labels, with subrules added to define the frequency of these labels.
• Requirements for skin effect trace heating systemshave been added (62-314), including an Appendix Bnote and diagram (B62.6)
Other heating (400 Series)
Lastly, the 400 Series (62-400 to 62-410)was revised to bring the requirements for heating cable sets and heating panel set installed within pipes, ducts or vessels up to date. Pipeline resistance heating is now referred to as pipeline impedance heating, and several rules have been moved from Section 26 for infrared drying lamps, water storage tanks, dielectric and induction heating, and bare element water heaters.
Additional changes and the re-organization of Section 62 rules will continue to take place. Requirements are in the works for heating within hazardous locations as well as Induction heating. Advances will also take place with skin effect heating and impedance heating systems. With the changes to this 2015 CE Code, Section 62 is posed to accept new heating technologies and any new safety requirements. While this article covers a very general view of section 62, it is incumbent on the Code user to review all the changes and apply the rules accordingly. It should also be noted that while this 2015 CE Code is published and available, to date it has yet to be recognized by anyprovincial or territorial authority having jurisdiction (AHJ). Code users should contact their Inspection authority to determine when this code becomes law within you jurisdiction.
More from Pierre McDonald:
– Conductor Ampacities and Their Temperature Rating
– Code and Public Safety
– Establishing When the CE Code Becomes Mandatory
– UL Code Link
– CAN/ULC-S576-14, Standard for Mass Notification System Equipment and Accessories
– Canadian CE Code Changes: Section 20 and More
– Meeting National Building Code of Canada Requirements
---
Pierre McDonald, CET, is Senior Regulatory Affairs Representative/Répresentant Principal, Affaires Réglementaires, Underwriters Laboratories of Canada Inc. Based in St. Albert, AB, Pierre has been a member of the Canadian Electrical Code Part 1 technical committee as well as several subcommittees including serving as Chair of Sections 6 and 76 and as a member representing regulators on several other CSA committees. Pierre is still active with code development and interpretation.