Tom Miguel, From the Factory Floor to the Lecture Hall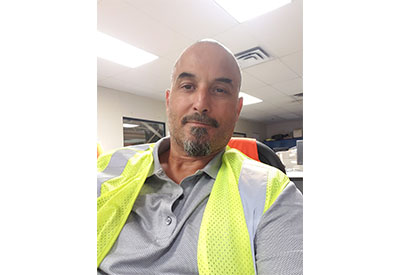 July 28, 2020
By Sarah Pickard
At 14, Tom Miguel was sitting in the counsellor's office of Silverthorn Collegiate Institute in Etobicoke, Ontario with his entire life ahead of him. In 1981, the world was changing, and like so many young men and women, he was faced with a world of choices that would go on to define both his career and his life. It was in this office that some counsellor suggested becoming an electrician, and Tom's interest was piqued.
"I knew from that point on what field of studies I needed to focus on to become an electrician," Tom said.
Tom graduated high school in 1986 and began a five-year apprenticeship as a construction electrician. He received his 309A license at the age of 22 on April 10th, 1990, and on September 29th that same year, married his beautiful wife Christina Servinis. Together, they had two amazing children: Nick, who is now a licensed electrician; and Angela, a licensed paralegal and proud mother to two babies of her own. While children and grandchildren toddled their chubby-cheeked way into Tom's life, he spent thirty years exploring the electrical and manufacturing world.
"I decided early on during my apprenticeship that I wanted to be experienced in all fields of the electrical industry. I gained experience in commercial construction, then institutional construction, then residential High-Rise construction, then industrial construction and Industrial automation and lastly service work. Out of all the areas that I was fortunate enough to have gained experience, I enjoyed the industrial automation field the best as it was the most challenging."
Tom began a career in the industrial sector working for Dempster's Bread. In his eight years there he worked his way up from electrician to lead hand, maintenance supervisor, and finally maintenance manager. When asked about the highlights, Tom said "My greatest accomplishment at Dempster's was building the plant and automating the entire process. to achieve 95% efficiency. Rarely did this plant have greater than 5% downtime in a given year."
After Dempster's, Tom moved into the lucrative automotive sector, where manufacturing plants paid extremely well. He spent the next eight years of his career working at Ford within the paint process. However, "Unsatisfied with the harsh environment and even harsher chemical exposure, I decided that another career move was in order."
From there he went to the Brampton Chrysler plant in 2005, starting as a maintenance supervisor in the assembly area. 15 years later, Tom is responsible for the World Class Professional Maintenance Pillar in assembly. He proudly reports that "The methodology that we use is a systematic process that if executed correctly, will deliver zero unscheduled downtime." Tom's job also includes the implementation and training of world class methodologies. A particular challenge, he notes, is convincing veteran tradesmen that the way things were done in the past are no longer effective, and convincing them to use the professional maintenance strategy. However, he adds that watching them respond with a new, profound understanding of the work and seeing the results of their efforts is deeply rewarding.
Those same rewards can be found in the efforts of Tom's other, younger students. These days, thirty years after Tom received his certification as an electrician, he can be found in the halls of Sheridan College, where he teaches college students and electrical apprentices alike the skills they need to be successful as an electrician. "There really is no better reward in life than knowing your skills and experience are being used to help students pursue a rewarding career in the electrical field."
With Tom's long history in the electrical field, and with the insights granted to him by his role as professor, we asked Tom where he saw the industry heading in the next thirty years.
"As we continue to move away from fossil fuels, we will become increasingly dependent on electricity to provide the things we need. The future is very clear: clean energy sources like electricity will completely dominate over all other energy sources. For this reason, the opportunities in the electrical field are endless, and will provide many good paying jobs for people all over the world."
For any young men or women sitting in the counselor's office, staring down their future, they should take that to heart.
Sarah Pickard is Assistant Editor, Kerrwil Electrical Group