Trilliant Partners with the City of Cowansville to Pioneer Smart City Infrastructure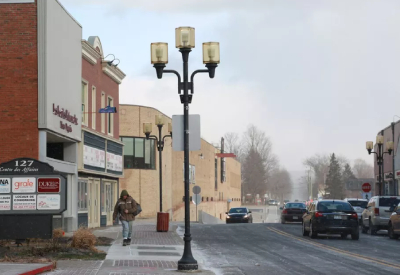 May 28, 2021
The City of Cowansville in south-central Quebec is the largest city in the Brome-Missisquoi region, with more than 15,000 residents. Despite being a smaller-sized city, it is known as an economic and industrial hub.
It also has a strong focus on innovation and efficiency — as demonstrated by decisions such as the one it made in 2017 to use beet juice to help combat icy winter roads, allowing the City to reduce the amount of salt it was using, thereby saving money and decreasing the impact on the environment. Like many cities across North America, Cowansville is constantly looking for ways such as this to advance its use of new technologies, increase its sustainability efforts and help improve the lives of its citizens.
Challenges
Over the last few years, the City became interested in exploring the implementation of smart street lighting as a way to not only improve public safety, but to also simplify city maintenance, save energy and reduce spending. With its existing infrastructure, the only way to know the status of the street lights was to proactively drive around the city to check them all. If a street light was defective, the maintenance team wouldn't know about it unless a resident called it in, or they discovered it themselves during a routine check — a time-consuming and costly process.
However, when the city began to investigate options for the deployment of a smart lighting system, it found the costs were high and the process was not in line with its goals. Although the City had started to test LED as an alternative, Cowansville's street lights were all sodium lamps. The proposals the city received required it to change out all its street lights to LED right away, which was an expensive and time-consuming undertaking.
Cowansville was hoping for a way to move towards better lighting management and efficiency —at its own pace, without getting rid of sodium lights that were still functional. It was also considering there might be other smart city applications it would want to deploy in the future.
Solution
Knowing it wanted to take a more phased approach with its smart street lights, Cowansville made the decision in 2020 to partner with Trilliant Networks to first put a network backbone in place: Trilliant's Industrial Internet of Things (IIoT) Platform and SecureMesh® neighbourhood area network (NAN) technology.
Trilliant and Cowansville partnered to determine the best approach for the City, allowing it to prepare for smart lighting with the ability to control existing lights first in phase one; then, once the network is established, Cowansville could deploy LED lights allowing for additional controls or even expand its offerings to include more smart city technology such as environmental sensors that monitor air quality.
Trilliant's SecureMesh® NAN will offer Cowansville the reliability, bandwidth and low latency required for smart lighting, and allows for an easier future implementation of other smart city applications. Trilliant's NAN solution is a standards-based, high-bandwidth wireless adaptive mesh technology. Through this solution, street lights will autonomously report to the NAN access point, and will be polled by the head-end system via the Cellular backhaul, making it fully scalable. Through this foundational technology, the city will be able to deploy other smart applications quickly and easily whenever time or budget allows.
Additional technologies such as Trilliant's SecureMesh® Wide Area Network (WAN) technology could also be integrated in the future to stand up and manage additional applications such as live camera feeds or other technologies. By leveraging Trilliant's Communication Platform, Cowansville has the ability to harness high bandwidth, low latency technologies to reach densely populated urban areas or sparser rural terrain.
Smart lighting will provide the City and its residents with many new benefits, including the ability for staff to manage the lights remotely, with information coming from the cloud not only to the city's maintenance centre, but also directly to staff's devices. The City will also have insights into the life and status of all lights. So, if a lightbulb burns out or is defective, the maintenance team will be notified; they'll also be able to proactively monitor the life of each light. This means they can see if a lightbulb might soon burn out, ensuring they can plan and have a replacement bulb on-hand.
With the new solution, if a lamppost falls or is damaged due to an accident, weather or other issue, a live alarm will sound to notify the City's team so they can take action. The City will also have the ability to remotely control the lights to turn them on or off in the case of an emergency, or in the case of a special event where more lighting is required for citizens' safety.
With the Trilliant communications network in place, Cowansville will also be able to easily add other devices to it, such as water meters and wastebin sensors.
There will also be advantages on the sustainability side: The ability to control lighting more effectively in turn means the city will be able to save electricity. Additionally, the eventual implementation of LED lighting, when the City deploys it, will allow for the ability to dim lights resulting in even more energy savings, contributing to sustainability efforts.
Next Steps
The City and Trilliant are working together on the NAN implementation, which is expected to be completed in June 2021.