Advocating for Change in the Skilled Trades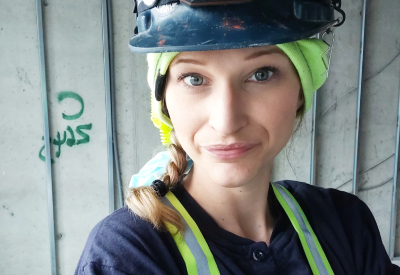 February 1, 2022
By Shannon Tymosko
When I promote the skilled trades, I often highlight the positive and amazing reasons why I love my job. But the truth is, no job is perfect. There are areas of opportunity no matter where you look, and to create and influence change you must talk about some of the dirty laundry. Why promote the skilled trades, if I am not also going to advocate for a better future and culture for those young people who follow? After working as a Child and Youth Worker and in business for a decade, I can say construction has some room for growth. Now to be clear, this isn't the same everywhere, this is just my experiences over the last 2 years on only one construction site. I am aware my opinion still lacks years of experience to really formulate, but if you are curious about employee retention this may be the article for you. People always say there is not enough interested people looking at the skilled trades, however I don't hear anyone talk about employee retention.
Something I found to be surprising is the amount of waste found on a construction site, and I don't mean 'garbage' however most of it does find its way into the garbage. I literally watched money get thrown into a dumpster daily and it was across all trades. Brand new material swept up off the floor, pieces of scrap and material people couldn't spend the time to reuse, and a ton of wood that was all used for temporary structures like safety. The packaging is the most shocking thing above all; items are sent from manufacturers individually wrapped and packed in their own boxes. To really get perspective think about how many pot lights are in a building and imagine each pot light comes wrapped and boxed separately. Now picture this sometimes the lights don't come prebuilt, and they could come with many different parts such as drivers, trims, cover etc. These too are often all wrapped and boxed separately. I would like to say that my previous construction site were active recyclers but often there was no option but a garbage bin. As a society we are trying to save the planet one straw at a time, but the amount of packaging found on a construction site is terrible.
Let's talk about leadership. In my previous jobs so much focus was placed on the development, and growth of an individual prior to releasing them into a high responsibility leadership role. I know a leader can make or break a team and it can be shocking to find sometimes the least qualified people on the team are in these roles. The General Foreman on my first job was the youngest, least experienced both technically and with people, couldn't listen to the advice of his elders on site and slept through most of his days. He reminded me daily how my safety was his number one concern as the newest person on his team but would ask me to do unsafe things and ridiculed me for not wanting to carry something his way, telling me, "As an electrician you better be prepared to lift hundreds of pounds". He spent months trying to get me laid off this site for no other reason but personal ones, but I am happy to say I outlasted this man on this project. I am grateful to report that the contractor finally took action as the complaints continued to role in. It is so important to place not just intelligent and experienced people in Foreman roles but also leaders. Ones that will listen, inspire, teach, and truly keep their people save.
Sisterhood, or lack of sisterhood. This currently is my biggest frustration. Firstly, I spent several months on my previous job site walking around on eggshells due to one woman on the construction site. This woman was the Health and Safety person for the site and made it her personal business to go out of her way (cross hallways) to give me a safety talk about something she felt I was doing wrong. Now I normally would encourage these conversations as safety should be everyone's number one concern, but it should also be consistent!!!! It was extremely frustrating watching this woman pick and choose who she would have safety conversations with. I can confidently say I saw her walk by people without hardhats, masks, glasses on and beyond, on more than a dozen occasions without saying a thing, but I can tell you she didn't miss one opportunity to put me in my place. Why you may ask, when I tried to ask her about her consistency or lack thereof, she denied there being any favoritism and became extremely rude for the remainder of our time on site.
On top of this worksite headache, why do I keep finding women competing with each other? There is so much room for us all! And what is so confusing to me is, aren't most of us advocating for more woman to be in the skilled trades? Please try to remember you are not going to like everyone, that is okay! But talking about other woman behind their backs or slandering her perception to people who haven't had a chance to build their own, or even worse lying about a fellow sister is extremely unprofessional and immature. We should be building our sisters up, sharing their stories, encouraging them to be unique and different. A good sister, and mentor knows she can not reach everyone and needs the help of her sisters to reach the ones she cannot.
Sisters everywhere you are likely to build a friendship at some point in your career where they surpass you, and maybe even with your help. Remember, their success is your success and ultimately helping everyone's goal of getting more woman in the skilled trades. I remember all the people at my previous job, where I trained and helped develop into leadership and management roles. When they left me to move on into bigger and better things, I didn't accuse them of stealing all my tips, techniques, contacts, and documents, or slander their name throughout the company. I sent them on their way with a celebration, a USB drive with all my personal files and contacts, crying in joy like a mother sending her kid off to college. Their success was my success, and some of my proudest moments. Those who don't see this are not true leaders or sisters!
Lastly, I'd like to comment on site culture. It is sad to say that people can ruin a job, but it is the truth. It is even more sad to say that some still live in the mental state of tough love works. They call it tough love, but the truth is some of it i
s abuse. It doesn't matter if you are male of female there are still times and places where it is tolerated to yell, throw things, and intimate your employees. Don't these so called 'bosses' know that their employee always gets what they feel is their just reward. This could mean standing around for hours, wasting your company dollar talking about your bad leadership. Or even worse you upset the guy who is willing to sabotage a job. Just a little bit of researching will show treating people poorly is not a good means of motivation and does not help get the job done!
In order to create and influence change you sometimes must have the hard and uncomfortable conversations about the problems. I share all this dirty laundry with you today in hopes to create conversation, impact change and inspire others to rise above the norm and be a role model for those to follow. Be the person to inspire and support your fellow brothers and sisters. It will take a large movement for some of these things to change but it starts with conversation, and it starts with you!