Electric Shock Podcast Interview – A Safety Matter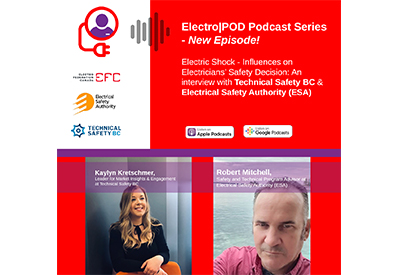 April 27, 2022
by Daniela De Marco, Marketing Manager, EFC
"Electrical work is evidently dangerous. Electrocution is one of the top six causes of occupational deaths in Canada and the U.S." according to Canadian Standards Association & the U.S. Department of Health & Human Services (2012). More often than not, electrical workers are taking unnecessary risks by working on a job site energized.
In EFC's electro|POD "Electric Shock" podcast episode, Gurvinder Chopra, VP of Standards and Regulation, and I connected with experts to explore this topic further. We interviewed Robert Mitchell from Electrical Safety Authority (ESA), the Safety and Technical Program Advisor, and Kaylyn Kretschmer, Technical Safety BC's Leader for Market Insights & Engagement. Meeting with Robert and Kaylyn broadened our understanding of what factors influence electricians, contractors, or apprentices when making a safety decision.
Electrical Safety Authority (ESA) and Technical Safety BC conducted separate research studies on working energized, years apart, with different methodologies to find that the results presented strong similarities. The conversation brought an essential factor to light: it centered on sociocultural and behavioural influences that are at play. These could include but are not limited to:
The human aspect of not wanting to inconvenience people. E.g., customers.
Not wanting to refuse working 'live' in fear they'll lose the job to someone who will.
Assuming they are working de-energized without double-checking.
Working on previously installed unqualified faulty work.
Low degree of electric shock reporting versus hospital data.
These influences negatively affect our safety culture, especially when, inherently, people do care about safety. In fact, Kaylyn shared that in the study, around 1200 members responded, "94% of folks said safety was very important to them, but individuals may have difficulty negotiating their own safety when social, economic or cultural forces are at play. This is a hazardous industry practice that we all need to change and talk more about so that we keep people safe and healthy."
Robert and Kaylyn further expressed solutions to support electricians, contractors, or apprentices on the job. As a final message, Robert Mitchell stated, "don't work energized. If you should experience an electric shock of any kind, go to the hospital and report it as a workplace incident. The best way to ensure electrical safety is for electrical workers to effectively plan work, disconnect and control the power and ensure that the controls have been effective by testing for the absence of voltage."
Dive deeper into this discussion by listening to the full podcast interview "Electric Shock – Influences on Electricians' Safety Decision: An interview with Technical Safety BC & Electrical Safety Authority" on Apple Podcast, Google Podcasts, or Spotify.
Access the research studies by Technical Safety BC and Electrical Safety Authority (ESA).
Additional resources available are:
Technical Safety BC Safety Story
Why do we keep putting ourselves at risk of electric shock?
Explore EFC's electro|POD episodes at: https://www.electrofed.com/electro-pod/