Case Study: EVdirect and Eaton Collaboration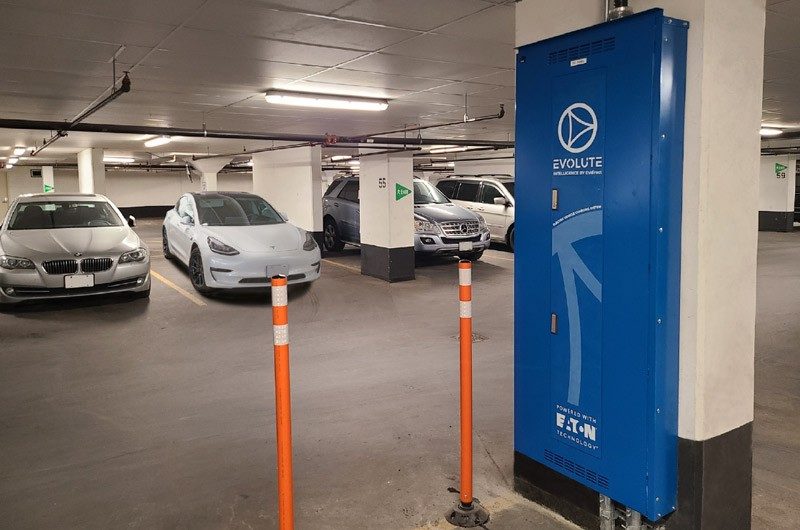 September 13, 2022
Location: Ontario, Canada.
Challenge: Load management of EV charging with limited incoming power service to existing buildings.
Solution: Pow-R-Demand.
Results: Custom control solution using an Eaton PLC and EVdirect control logic to achieve dynamic load management for Electric Vehicle charging.
When it comes to markets poised for remarkable growth, the Electric Vehicle (EV) industry is right up there. Since 2010, EV sales have grown exponentially across the world—and with OEMs committed to investing $300 billion in the market in the coming years1, , and countries like Canada committing to phase out fuel-dependent cars by 2035, new electric vehicle sales are expected to jump from 2.6% of the automotive market2 to 28% by 20303.
Yet, while many believe this market's promising future is all but certain, we're not quite there. One of the biggest barriers? Charging anxiety. Simply put: People are hesitant to buy EVs largely because the infrastructure is still emerging and they're worried how far they can drive on a single charge.
This is somewhat less of a barrier for single-family homeowners, who can easily and inexpensively install EV chargers in their garages. For residents of multi-unit residential buildings (MURBs), however, it's a little more challenging.
That's something EVdirect—in collaboration with Eaton—is changing with a revolutionary approach to MURB EV charging systems.
Identifying a market need
You can't simply install a charging station designed for a single-family building into every parking spot in a condo or apartment building—there simply isn't enough available power. And even if it's possible to get extra power capacity added, it's cost prohibitive.
To get around this challenge, buildings require a dedicated EV panel or network of panels to feed their EV infrastructure to end users. From there, they use a series of conduits or conductors to get electricity to the parking spots and, ultimately, a personal charging point to charge the vehicle.
With this set-up, however, many limitations still remain. This type of simple infrastructure makes it impossible to share the power— and because it doesn't allow for any type of metering, monitoring and billing is still difficult. At the same time, it's a short-lived solution incapable of evolving in pace with EVs—requiring additional (and expensive) infrastructure or equipment upgrades in the future.
As the industry evolves, some developers are swapping out "personal charging station" with a newer "smart, networked charging station", but obstacles still abound. These stations lock users into a subscription-based software system that typically costs thousands of dollars. They rely on Wi-Fi—so if the signal connection is spotty in your parking garage, some EVs may not even charge. And they're only compatible with specific brands of chargers, which are often different than those recommended or desired for a user's EV.
Perhaps the biggest problem with existing smart charging stations is that they're not very flexible—and are often very difficult to update. With the industry evolving at a breakneck pace, buildings run the risk of making expensive EV charging investments that are destined to be obsolete in a few short years.
Eaton-backed design
EVdirect decided the key to improving the traditional MURB EV charger design was to build an intelligent electrical panel that could deliver power in a smart way. One that was compatible with all Level 2 charging stations—and therefore could allow end users to choose their own chargers and hardware. One that would essentially allow condos and individuals to pick the solution that works best for them at a reasonable price.
The problem? They needed someone to help them build it.
So the company issued a call for support on LinkedIn—and were surprised to hear back from Eaton.
"When someone from Eaton responded to our post on LinkedIn and said they were interested in supporting a small Canadian business like ourselves, we were shocked," says Manny Alter, Chief Business Development Officer at EVdirect. "We took them up on the offer and started building the product together."
Aditya Ramesh, Product Manager at Eaton, says EVdirect was precisely the type of partner the company had been looking for.
"Eaton is committed to helping customers and communities participate in the low-carbon energy transition, and electric infrastructure is a huge part of that," says Aditya Ramesh. "Our mandate aligned well with EVdirect's mission, and we felt we could bring a lot of value to the table. Once we began work on the project, both sides started to realize we were onto something very special."
Prior to partnering with Eaton, EVdirect had already been using Eaton components on a piecemeal basis. The team at Eaton decided to take those efforts one step further by working with EVdirect to build a customized solution that could also be scaled to meet market demand through their manufacturing capacity. Each step of the way, Eaton offered support—from engineering advice to software input to design recommendations—and by the end, they had something completely unique.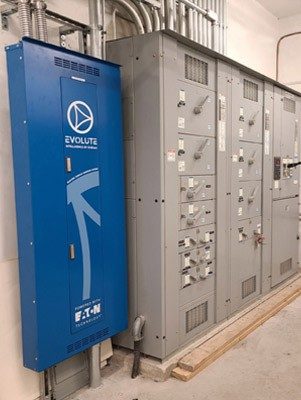 Coined the "Evolute", the new panelboard includes:
Current transformers on each smart breaker, so users can monitor when an EV is connected and charging.
Load management capabilities via a specialized Eaton Programmable Logic Controller (PLC) program, which commands the breakers that feed the parking spots— and allows users to turn off the power to the spot when it's not in use.
Multi-metering capabilities so each parking spot owner is only charged for the electricity they use.
Charger-agnostic outlets. Because all the load and energy management is done in the panelboard, users don't have to buy a specific EV charging station to use the system
A customizable solution
EVdirect was pleased with the original EV panelboard prototype, but the company also knew its customers—and a one-size-fits-all approach wasn't going to cut it. Some condo developers would only need 15 chargers for their buildings, while others might need 30. Some would have more space to house the EV chargers, and some would require more amperage to accommodate a greater number of vehicles.
All of these needs would impact the original design in different ways, so EVdirect and Eaton went back to the drawing board.
"We worked together to create a menu of options, so customers could build custom configurations to suit their needs," says Aditya Ramesh. "We introduced different footprints, different hardware features, different amperages— and then we explained how the dimensions would look for each configuration."
This customizability was critical for the emerging EV industry. When things can change in the blink of an eye, condos and office buildings need to be able to pivot and scale their electrical infrastructure.
"This is still a very new market," says Manny Alter. "For instance, going forward, metering companies that bill condo residents may want to add the Evolute system onto their billing platform, so residents can get one consolidated bill. In this situation, Eaton wouldn't need to provide metering in our enclosure anymore—and the current modularity of the panelboard design allows us to accommodate that."
A different kind of software
As Eaton perfected the panelboard, EVdirect was working independently on the solution's PLC program and the end user software.
"We wanted to create a low maintenance software based on a first-in, first-out algorithm. We factored in so many elements, and had to play around with so many variables, to find the right combination that would be best for our end users, the EV owners," says Adam McGrath, Operations Manager at EVdirect. "For instance, everyone has a unique parking experience—how do you optimize the charge for each end user? We did a lot of work to make it an easy experience. We optimized the amount of amperage and power available so now we don't leave much to waste."
Today, Evolute's software allows condos to do countless things other EV chargers in the market simply can't, like:
Allocate the right amount of power so all cars can be charged over a given time. When a parking garage is full, the software balances the power availability by controlling the breakers feeding each EV parking spot. When it's less busy, all cars can be charged simultaneously so they can charge faster.
Provide building managers with more control. With the Evolute Admin dashboard, Property Managers have full control of the system. That is, they can view data and usage and remote control each of the stations if need be. High-level usage reports and end-user invoices are also available for easy tracking a reconciliation.
Manage EV power on-the-go. With Evolute's mobile app, users can turn their spot's power on and off, indicate how much charge they need at a specific time, or even pay their bill directly from their phone.
Better understand power usage. Evolute's customized reports allow users to see how much power they used in a given month.
Starting with the future in mind
While it's still early in the EV game, the popularity of these vehicles is escalating. Condo developers are getting more inquiries from buyers requesting EV charging stations in their parking spots and management teams of existing buildings are noticing more condo dwellers switching over to electric.
"Our panels are installed in very high-traffic locations, and they look nice," says Manny Alter. "We're finding that owners are seeing this and wanting to be part of the system. They see the value of owning an EV chargingenabled parking spot—and they know when they buy an EV, they can easily charge it."
As the trend continues, both EVdirect and Eaton are confident their systems—and their offerings—will seamlessly evolve in pace with demand.
"We've kind of created the gift that keeps on giving. We're finding more and more capabilities as we develop this product," says Adam McGrath. "Current solutions may be fine right now, but as more EV users come along, condos will run out of power. By networking power, we can expand to service many more vehicles."
And because condos are investing in EV panelboard systems—rather than simply EV charging systems—they can do a lot more with the end loads than simply charge cars.
"We're thinking through to the future. This is not just a charging system; it's a delivery-of-power system," says David Ackermann, CTO at Evdirect "With smartcontrolled power, you're not just limited to EVs. You can tie in your HVAC or laundry systems too. This is the actual future. The smart control panel can be used for whatever you want—the panel, network and system are there and you can use it as required."
To learn more about how Eaton is helping to support the low-carbon transition, visit EatonCanada.ca/energytransition
McKinsey and Company, Electric Vehicle Index 2020
International Energy Agency, Global EV Outlook 2020
Bloomberg Electric Vehicle Outlook 2020