Single-Family Home Construction in Nova Scotia helps Drive Residential Investment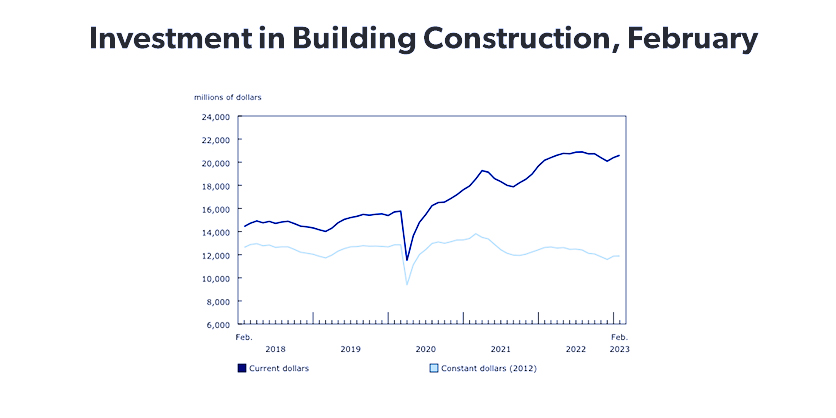 April 19, 2023
Investment in building construction went up 1.0% to $20.6 billion in February, with all components posting gains. The residential sector rose 1.1% to $15.0 billion, while the non-residential sector was up 0.8% to $5.6 billion.
On a constant dollar basis (2012=100), investment in building construction increased 0.2% to $11.9 billion.
Investment in residential building advanced 1.1% to $15.0 billion in February, with single-family home investment (+1.3%; +$102.8 million) contributing the most to the growth. Most notably, Nova Scotia recorded its largest monthly dollar increase for the single-family component (+19.9%; +$47.5 million) since March 2013.
Multi-unit construction increased 0.8% to $6.9 billion, mostly driven by Ontario (+7.6%). On the other hand, Quebec continued to contract, with its ninth consecutive decline since reaching its peak in May 2022.
Non-residential construction investment increases for ninth straight month
Investment in non-residential increased 0.8% to $5.6 billion in February, with Ontario leading the gains in every component.
Industrial construction investment rose 1.1% to $1.1 billion in February and was up 23.1% year over year. This was the 15th consecutive monthly increase. The steady increase was largely driven by the mining and agriculture subcomponent, up 61.1% from December 2021 to February 2023 on an unadjusted basis.
Commercial construction investment was relatively stable in February, up 0.5% to $3.1 billion. Both Ontario and Manitoba continued to climb for the sixth consecutive month.
Institutional construction investment was up 1.0% to $1.4 billion in February. The start of an educational building in Kelowna, British Columbia helped contribute to the overall growth in the month. Conversely, Newfoundland and Labrador posted its 16th consecutive monthly drop in February, leading to its lowest recorded value since June 2018.
For more information on housing, please visit the Housing statistics portal.
Related Article