Electrical Apprentice Training Modernized Through Virtual Technology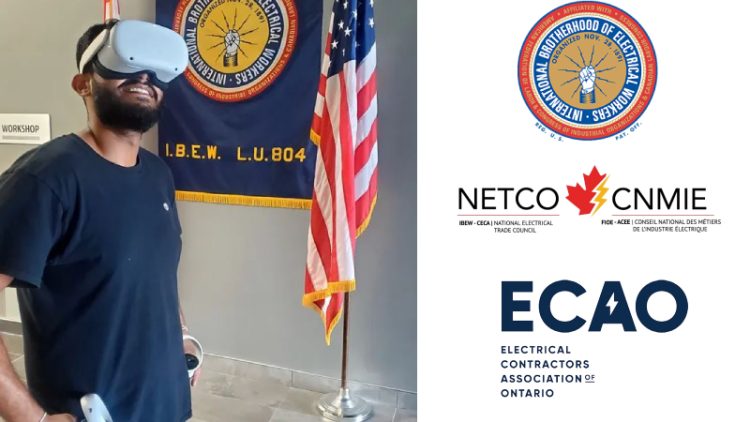 December 2, 2022
By Sherri Haigh and Sarah Barry
As Nate places the headset on, he enters a virtual world and arms himself with the tools he needs. No, this isn't the beginning of a blockbuster video game, but instead, it's the start of his day as an electrical apprentice.
"I love this new technology. It is a great way to help me learn, and I really felt like I was in an actual job site when I was wearing the headset," said IBEW Local 804 electrical apprentice Nate O'Donnell.
No matter the safeguards, electrical work is dangerous, and no one is more at risk than the apprentices who are learning the trade. But that training has become significantly safer, more economical and more accessible thanks to a new Virtual Electrical Training (VET) program now being delivered at Local IBEW training centres throughout Ontario.
The VET program, developed by IVRY Technologies and IDEAL Electrical, is administered through the National Electrical Trade Council (NETCO). This Employment Ontario Skills Development project is funded in part by the Government of Canada and the Government of Ontario.
IBEW Local 804, serving Central Ontario (Kitchener and surrounding areas), was one of the first Locals in Canada to test this new technology.
"The feedback from those participating was very positive, and we were able to share that with NETCO to help them roll out the program to Locals across Ontario," said Peter Caesar, Training Director for IBEW Local 804. The program is now in almost all IBEW training centres in the province.
Ottawa IBEW Local 586 was also well-positioned to introduce this program, having prepared for virtual training prior to the pandemic and says this tool is a great way to support training.
"It definitely feels real, and the great thing is you can practise this 50 times, and there's no danger," says George Kardaras, Training Director for IBEW Local 586. Although the program was initially designed for apprentices, Kardaras says new programs will eventually support journeypersons.
"Eventually, everyone in our Local will have the chance to benefit from virtual reality training," he said.
NETCO's Executive Director Chris Swick says there are many advantages to evolving to VET for electrical apprentices and journeypersons.
"Of course, safety is number one, but there's also the benefit of reduced waste as there are no consumables being used," Swick added. NETCO focuses on developing training standards for new technologies in the electrical industry.
"Once you have the Oculus headset on, you will actually be going through a construction phase of a project, which begins with running conduit and once installed, you grab your wire, feeding the wire into the conduit and then cutting it. It walks you through the whole process, and once you complete that, you enter into a test mode, and you do it on your own," Swick said.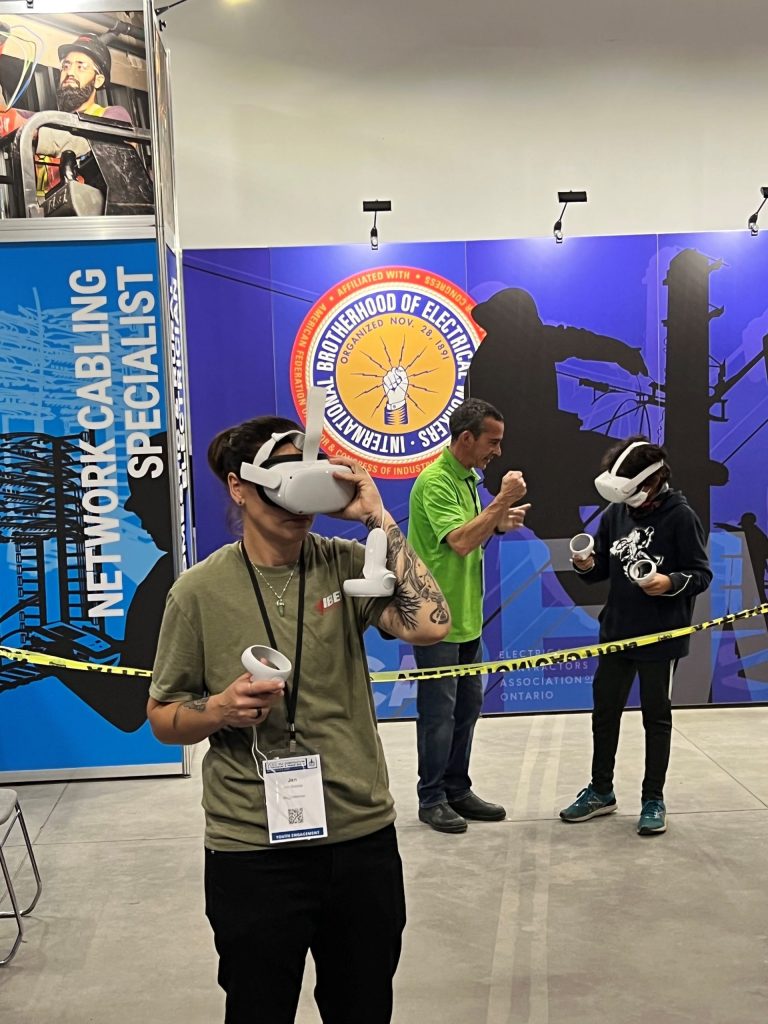 He says there will be 250 apprentices that will benefit from this training at IBEW training centres across the province by March 2023. The IBEW Construction Council of Ontario (IBEW CCO) and the Electrical Contractors Association of Ontario (ECAO) have been working with NETCO to launch this successful program in the province. It will eventually roll out across the country.
Swick said it's also a good way to introduce students to the trades as it's "fun technology" that youth are already familiar with.
Ontario's Minister of Labour, Immigration, Training and Skills Development, Monte McNaughton, who has been a passionate supporter of skilled trades, also took the time to test out the technology.
"I think he was blown away by how safe and realistic it was," said Swick.
Kardaras concurs that this is a great tool to attract youth to the trades.
"This form of training is really attractive to youth—they love technology, and this will help them focus more, as opposed to the old school classroom. We really need to incorporate this technology to grab them, "said Kardaras. He noted that the integration of more technology has meant trainers having to adapt as well.
"We are zoom ninjas at this point; you need to be a bit of a tech nerd to be an instructor," said Kardaras.
Swick also explained the technology includes a learning management system with a reporting section linked to the system to identify if students are having challenges with the program.
"This will tell us where they are struggling, and we can flag the training director to take a deeper dive, so the student understands what is being asked of them," Swick said.
The technology is also key for remote locations where students may not be near a training centre but can learn from their own homes.
Seasoned IBEW journeypersons are also excited by the potential of this new training format, which will extend to other programs beyond apprenticeship Training.
"It is a privilege to be part of an organization like IBEW that prioritizes education, safety and our community," said Jennifer Massia, an IBEW-certified electrician with more than a decade of experience in the industry.
This article is provided courtesy of the Joint Electrical Promotion Plan.
Go HERE for more information on the VET program