3M™ WorkTunes Connect Wireless Hearing Protector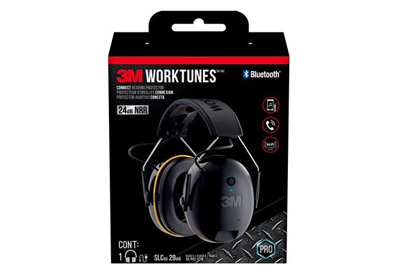 Apr 28, 2021
3M™ WorkTunes™ Connect Hearing Protector with Bluetooth® wireless technology combines a modern, comfortable design with high-fidelity sound quality. This innovative hearing protection lets you conveniently make and take phone calls. Equipped with Bluetooth® Wireless Technology, these ear-protective headphones allow you to stream the entertainment of your choice from your smartphone or other mobile device, while providing hearing protection in noisy environments. The low profile and lightweight design is crafted with style in mind. Built-in comfort features such as soft ear cushions and a hat-compatible headband are excellent for extended wear.
• NRR of 24 dB (Noise Reduction Rating)*
• BLUETOOTH ® TECHNOLOGY lets you seamlessly stream entertainment from your mobile phone and any other Bluetooth® enabled device
• HIGH-FIDELITY SPEAKERS provide premium sound quality
• INTEGRATED MICROPHONE lets you make and take phone calls without removing the hearing protection
• CORD AND ANTENNA-FREE design lets you move easily on the job
• SIMPLE SINGLE-BUTTON INTERFACE allows you to stay focused on the job
• AUDIO ASSIST TECHNOLOGY provides operational and set-up guidance¬–without having to take off the hearing protector
• FLEXIBLE HEADBAND with cutouts to improve comfort when worn with caps
• LIGHTWEIGHT, LOW-PROFILE DESIGN is great for extended wear
• *CAUTION: 3M strongly recommends fit testing of hearing protectors. Research suggests that many users will receive less noise reduction than indicated by the NRR due to variation in hearing protector fit, fitting skill and motivation of the user. If the NRR is used, 3M recommends that it be reduced by 50% or in accordance with applicable regulations.
• SOFT, CONFORMABLE EAR CUSHIONS and low-profile cups for a comfortable fit
• AUTO SHUT-OFF feature with low-battery indicator
• BUILT-IN RECHARGEABLE BATTERY; charging cord included
• COMPATIBLE WITH NON-BLUETOOTH DEVICES via 3.5m audio cable (not included)
• 30+ HOURS OF BATTERY LIFE PER CHARGE
Go HERE for more information.