Milwaukee M12 Cable Stripper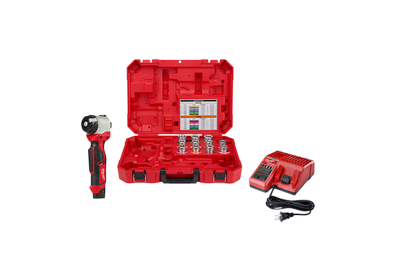 Sept 2, 2021
M12™ Cable Stripper Kit for Cu THHN / XHHW aims to improve the cable stripping experience. With no exposed blades, the cordless cable stripper provides safer stripping than with a knife. The cable stripper's compact, right-angle design allows you to maneuver it more easily in tight spaces with less strain on the wrist. The bushing design and adjustable depth gauge deliver cleaner, more accurate and consistent strips across all sizes. The cable jacket stripping tool is not only compatible with all MILWAUKEE® bushings but is also compatible with competitive quick-change bushings. In addition to the battery-powered stripper, this kit contains 11 bushings for copper THHN and XHHW cables, one M12™ REDLITHIUM™ CP2.0 battery, an M18™ & M12™ Multi-Voltage Charger, and a carrying case.
Features:
Depth Gauge Adjustment up to 3″ for Accurate, Consistent Strips
Compact Head, Internal Depth Gauge for Easy Access
Optimized Bushing Design Prevents Nicks
Variable Speed Trigger for Controlled Strips
Ability to Strip in Crowded Panels and Switch Gears
Quick-Change Bushing System for Faster Stripping Across Sizes
Strips 1/0 – 750 MCM Cu & Al THHN/XHHW Cable
Strips 1/0 – 500 MCM Cu RHW/RHH/USE Cable
Compatible with All M12™ Batteries
Go HERE for more information.