Via 2 Prism – A Newcomer to the Via Product Line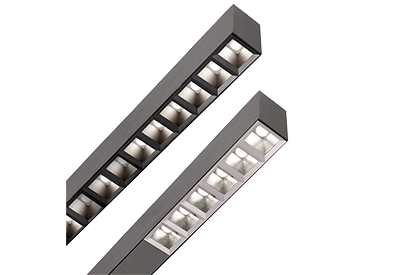 October 21, 2022
Meet the Via 2 Prism
Available in recessed, surface, and pendant mounting, and equipped with all of the features that have made the Lumenwerx Via line so successful, the Via 2 Prism pushes the technological envelope further with its Diamond Prism Optic™ (DPO™), a sophisticated innovation engineered to deliver a soft glow that wraps around subjects, casting subtle, graduated, low-contrast shadows.
Advanced Optic Technology
This latest newcomer to the Via family is extremely efficient, achieving a luminous efficacy of up to 150 lm/W. The Via 2 Prism's optic, the DPO™, is a patent-pending, 3-tiered solution that refracts and reflects beams with great precision, effectively controlling glare with a UGR of < 5. Besides providing visually comfortable illumination, the DPO™ fixture itself is pleasing to the eye with its refined textured pattern inviting touch and further appreciation.
Patterns and Layers
Each Via 2 Prism lighting fixture can be installed as a discrete luminaire, in continuous runs, or in patterns composed of a combination of individual units joined in a straight line, at 90-degree angles, or at less conventional acute and obtuse angles.
The Via 2 Prism also allows for different optics (either DPO™ and/or HLO and/or blanks) to be housed together, enabling multiple lighting types (ambient, task, accent, etc.) from the same fixture.
Gentle, yet powerful, classic yet innovative, simple yet complex, the Via 2 Prism is a substantial addition to the Lumenwerx Via offering, and one that comes with countless opportunities to create, illuminate, and bring spaces to life.
For more information on Via 2 Prism, view the Via 2 Prism brochure.