Winter-Melt Self-Regulating Plug-in Heating Cables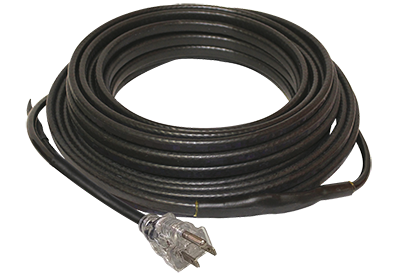 May 12, 2022
Winter-Melt (ECK) plug-in heating cables are the perfect solution for general freeze protection in residential and commercial applications. Factory assembled with a 3-pronged plug, each cable simply connects to a 120V outlet fitted with ground fault protection device (GFCI). Installation is quick and easy as the self-regulating feature allows the cable to be overlapped at any point without the risk of overheating.
Roof and gutter de-icing system
Suitable for shingle, rubber/tar, wood, metal, and plastic roofs.
Suitable for wood, metal, and plastic gutters.
Helps prevent roof damage and leaking caused by ice.
Pipe tracing for freeze protection
Suitable for metal and plastic pipes.
Approved for indoor and outdoor use.
Helps prevent damage caused by a frozen pipe.
Go HERE for more information