FSR Symphony In-Table Box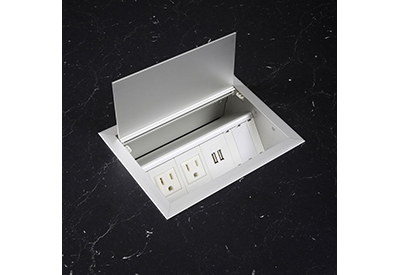 May 16, 2022
The SYM-IN "In Table" model provides an attractive user interface while solid construction throughout ensures reliable performance in demanding environments.
There are a variety of stock models available allowing access to network, CATx cables along with AV cables and AC power. Standard models can be ordered with up to three AC outlets, two USB charging ports, and two low voltage openings that receive FSR Simple Solutions and Hubbell™ keystone style snap in connectors.
Select your frame option from the drop-down menu based off the table below. Each frame will be able to accommodate a specific number of inserts based on its overall dimensions.
Go HERE for more information