Customizable High Voltage Power Distribution Unit from Littelfuse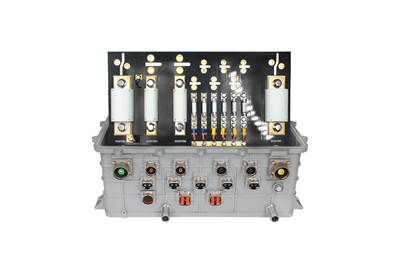 July 8, 2022
Littelfuse's customizable HV PDU can be designed for any voltage, providing solutions for OEMs installing the latest EV battery technology. By combining our high-voltage DC contactors and fuses in an IP67/6K9K-rated enclosure, optimizing power distribution with busbars and PCBAs, and adding temperature sensing and current sensing capabilities, the HV PDU safely, reliably, and efficiently distributes power from a high-voltage battery module to the high-voltage systems of a vehicle.
The high-voltage components are electrically connected through the busbar and wiring harness, which creates a high-voltage system for electric and hybrid-electric vehicles.
The system provides functions such as charge and discharge control, high-voltage component power-on control, circuit overload and short-circuit protection, high-voltage sampling, and low-voltage control. These functions protect and monitor the operation of the high-voltage system.
The HV PDU can also integrate battery master switch main control, charging module, DC/DC converter, PTC control module, and other functions. Compared to traditional PDUs, the HV PDU features more vehicle functional modules, which are more integrated in function and more complicated in structure, with heat dissipation structures such as water cooling or air cooling.
Go HERE for more information