Rapid Ring Self-Adjusting Pre-Fab Ring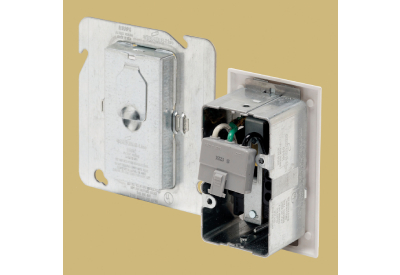 July 8, 2022
Eaton's B-Line series basic Ruff-IN pre-fab assembly offering includes the Rapid Ring self-adjusting prefabricate plaster ring. Its unique design can help you win tight bids and beat the profit squeeze with its innovative 4-step installation.
This revolutionary prefab system installs in as little as 15 seconds per unit, compressing your project schedule, cutting operational costs and reducing on-site waste.
Because the Rapid Ring is a self-adjusting pre-fab ring, you'll never need to adjust a mud ring again. With a simple push of the Rapid Ring you're flush every time.
Self-adjusting to various wall depths and types of tile
Easy off/quick release protective plate
Works with wall depths up to 2″
Completely tool-free trim-out phase
Manufactured in the USA with union-made assemblies
Fits most standard boxes and brackets
One-source supplier for full line of 1- to 4-gang product offering
Easy to route around raised surface on the protective plate
UL Listed for U.S. and Canada
Go HERE for more information