Current's New Lifeshield® Architectural Downlighting Is a Complete Suite of Products for Complex Spaces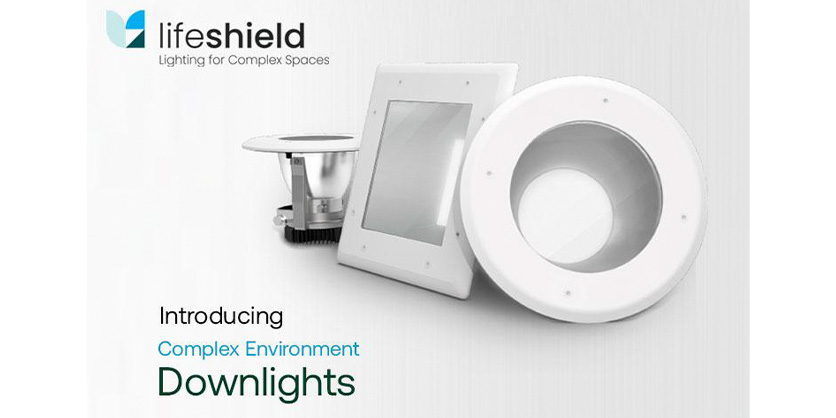 July 17, 2023
Drive consistency in downlighting from the lab to the cleanroom to the surgical suite
Lifeshield® LED lighting from Current ensures safety, reliability and compliance in complex environments and now includes Lifeshield Architectural Downlighting that brings consistent visual quality and comfort to health care, behavioral, vandal and cleanroom settings.
See Every Advantage
Challenging complex environments require proper light levels with good uniformity. Fixtures must also work around the mechanical obstructions of medical or industrial equipment to create a comfortable and task-safe environment. New Lifeshield Architectural Downlights feature a low-glare, quiet-ceiling design that avoids distraction and aids visual acuity.
Through common optical construction and consistent materials, Lifeshield downlights deliver a 50-degree visual cutoff to source for excellent glare control, helping medical professionals, laboratory specialists, cleanroom technicians and other skilled workers focus on their tasks and not the ceiling.
"Alternative shallow aperture fixtures tend to create greater ceiling glare," says Deb Zawodny, Business Development Manager for Current. "Our new downlights are designed for optimal visual comfort and true color rendition that are essential to many surgical, pharmaceutical and food processing activities. As one of the most complete and flexible suites of products available, Lifeshield Architectural Downlights offer the best combination of apertures, distributions and certifications to fit complex environments."Deb Zawodny, Business Development Manager for Current
Many Options, More Choices
The Lifeshield Architectural Downlighting family includes 4-inch and 6-inch round and square aperture fixtures with beam distributions ranging from very narrow to extra wide. Also available for round aperture fixtures are Lifeshield Wall Wash luminaires that contribute to the ambient illumination in a space. Additionally, a variety of reflector finishes and colors makes it easy to enhance any design.
Lifeshield downlights are IS03 cleanroom rated for sterile environments, having smooth surfaces with antimicrobial finishes to help inhibit contamination. Their sealed design ensures durability in NSF2 washdown environments while nonferromagnetic construction prevents electromagnetic interference with the most sensitive medical equipment. Many Lifeshield downlights also meet other complex environment certification/listing standards including CSA, Wet Environment, IC, CCEA, UL924, IP66, IP69K, IK10, MIL461G and IEC.
Additionally, installers and specifiers will appreciate how the new downlights are easily integrated with Current's NX Lighting Controls platform for seamless interior lighting control with simple, intuitive operation.
Safety and Style
Lifeshield offers an extensive line of luminaires for patient rooms, surgical and imaging, behavioral, vandal resident and cleanroom environments. There are many different options to achieve optimal visual acuity, glare control, cleanliness and functionality, so lighting pros can design to practically any complex space requirement by selecting from one family of fixtures that stands out for thoughtful design and technology.
Set a higher expectation for complex environment lighting at currentlighting.com/lifeshield.
More information available here
Related Product
Our built environment plays a crucial role in determining the quality of energy we consume. As the nation invests in grid system modernization and resiliency, there is a growing emphasis on electrification, renewable energy integration, and carbon reduction.