Lumenpulse Extends Its Opticolor Offerings to Even More Products
August 1, 2023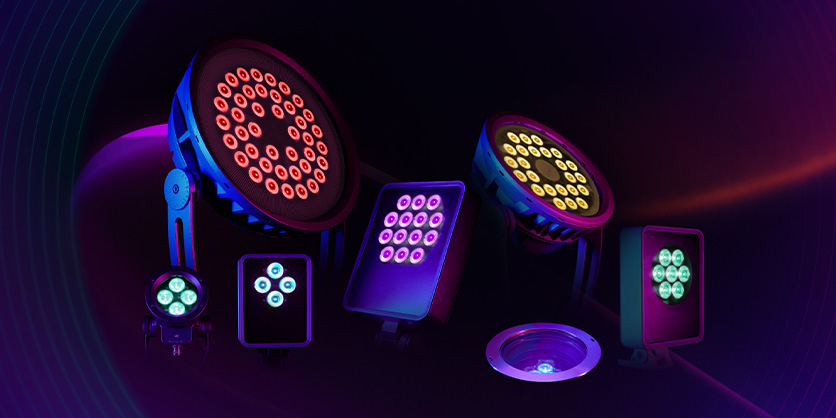 Lumenpulse has expanded its OpticolorTM offerings to encompass the entirety of the Lumenbeam and Lumenquad families.   
Previously available in select Lumenbeam and Lumenquad products, the patented Opticolor technology, which mixes colour at the source, is now available in the smaller Lumenbeam and Lumenquad luminaires, as well as the Lumenbeam Inground. These latest options provide a wider variety of lighting solutions for indoor and outdoor architectural applications.  
"We are pleased to be completing the Lumenbeam and Lumenquad projector families and are incredibly excited to be including our Lumenbeam Inground fixture. Inground fixtures can be tricky, and we have solved the most common installation issues while now providing an excellent new colour-changing solution,"

Leigh Gice, Market Segment Director
The proprietary technology gives you the colour you want at the fixture's surface. Thanks to tight binning and working within a 5nm variance, Opticolor provides a consistency of colour that blends seamlessly with other Lumenpulse products and applications.  
"A natural expansion of Opticolor and a natural companion to all Lumenpulse colour-changing products, designed for those applications in which the luminaires are part of the environment so that in both near field and far field, you can achieve perfect colour mixing that you come to expect from Lumenpulse," 

Dave Grassi, Optical Engineering Manager 
Opticolor technology is compatible with DMX/RDM, Lumentalk, and DALIT8, allowing the use of familiar control systems. With exceptional colour rendering and blending, the luminaires boasting Opticolor technology are an ideal choice for atriums, theatres, and other applications where grazing surfaces are required or a view of the lens is possible.
For more information, visit lumenpulse.com/Opticolor 
Editor's Notes
About Opticolor
A patented Lumenpulse technology that features a multi-die LED cluster enabling highly configurable colour combinations that are mixed within the optic. The technology utilises individual colours that are binned to within 5nm, resulting in optimum, best-in-industry colour consistency across various fixtures and applications. Individual colours can also be matched with our portfolio of discrete colour-changing fixtures. 
Related Product
Lumenpulse, a leading pure-play, specification-grade LED lighting solutions provider, launches Lumenfacade Pure, an exceptional, high-performance, architectural linear fixture for exterior applications.