BC Hydro Completes $94 Million Substation in Surrey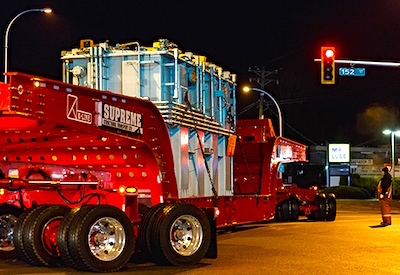 May 31, 2016
BC Hydro has completed construction of a new $94 million substation in Surrey to help meet increasing electricity demand in one of the province's fastest growing cities.
Demand for electricity in Surrey has increased by 28% over the past 10 years. Demand is expected to increase by another 35% over the next 10 years.
The substation will offload capacity from four existing, smaller substations that are at or nearing capacity and will no longer be able to deliver the additional power needed. BC Hydro owns and operates more than 300 substations. Photo: delivery of a 114,000-kilogram transformer to the Surrey site earlier this year.
"Surrey continues to grow at phenomenal rate. Recently, the city announced new economic development plans that'll poise Surrey as a centre for smart technology, innovation and economic growth, including the development of a new film and television studio," says Bill Bennett, Minister of Energy and Mines. "All of this development requires reliable power and that's why new infrastructure, like this substation BC Hydro has built, is essential."
"The new substation will provide a safe and reliable supply of power for Surrey over the next 30 years," says Peter Fassbender, MLA for Surrey-Fleetwood. "The project has already contributed to the local economy — construction created about 100 jobs and many Surrey-based companies and contractors were involved in construction."
BC Hydro also announced it will begin upgrading the transmission network in the South Surrey area in 2017. These upgrades are required to ensure that electricity can be transported to where it is needed as the population continues to grow. The project involves replacing five kilometres of a transmission line along Highway 10 and making upgrades to two existing substations — the Nicomekl and White Rock substations.
The transmission upgrades are expected to be complete in 2018. The cost of the project is estimated at $35 million.
"These projects in Surrey are one piece of BC Hydro's comprehensive capital plan to invest in aging infrastructure and new projects to plan for the future needs of the province," says Chris O'Riley, Deputy CEO, BC Hydro. "We're investing, more than two billion a year, over the next 10 years, in B.C.'s electricity system."