SaskPower Investing in the Wynyard-Wadena Area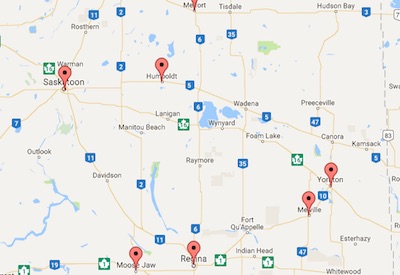 November 20, 2016
This year, SaskPower has been working on projects worth $13 million in the Wynyard-Wadena area to keep up with growing demand, meet environmental commitments and renew an aging power grid.
Work is underway to construct a new $3.3 million Wadena substation, with construction to begin in mid-2017. Work has also begun on a $5 million project to expand SaskPower's Bankend station. SaskPower is adding electrical facilities in the station that will result in two power line connections at the station to provide more than one power source, increasing power reliability in the area. Construction is scheduled to begin next year.
In 2016, an additional $4.5 million in maintenance work has also been undertaken in the Wynyard-Wadena region, which includes Wynyard, Wadena, Foam Lake, Dafoe, Fosston, Rose Valley, Marean Lake, Greenwater Lake, Hendon, Kelvington, Kylemore, Kuroki, Margo, Paswegan, Clair and surrounding rural area.
Power reliability issues experienced this past summer in the area were partly due to an aging substation.
"SaskPower is facing an ongoing challenge," says Tim Eckel, Vice President of Transmission Services. "As the demand for power continues to grow, we not only need to build the grid, but we need to maintain our existing assets, including our power lines, transformers, stations and power plants. We're investing about $1 billion a year throughout Saskatchewan to make sure homes, farms and businesses have the power they need, when they need it."