Canada-U.S. Lake Erie Connector Project Receives Federal Approval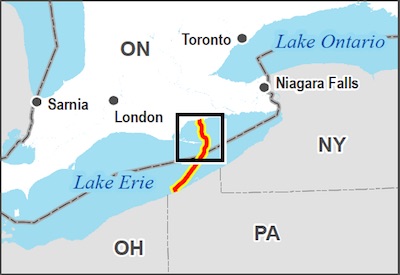 July 6, 2017
Federal Natural Resources Minister Jim Carr recently announced the government's approval of a National Energy Board decision to issue a certificate for the Lake Erie Connector Project.
ITC Lake Erie Connector LLC's project will help increase the trade in electricity between Canada and the United States. The $544-million Canadian portion of the project will create 331 jobs during construction.
The project is a 1,000-megawatt, two-way underwater transmission line, measuring about 117 kilometres, which will travel under Lake Erie and provide the first direct electricity link between Ontario and Pennsylvania. The project is expected to be in service by 2020.
It is subject to 42 binding conditions.
The estimated capital cost for the 49-kilometre Canadian portion of the project is $543.5 million. The proponent estimates that project construction in Ontario will generate $21.4 million in employment income, $38.2 million in gross domestic product, $8.8 million in government tax revenues, and 331 jobs.
"Canada is a country with a wide range of natural resources, and as we move to a low-carbon future, electricity will have an increasingly larger role," says Carr. "Projects like the Lake Erie Connector Project are tangible examples of how Canada is demonstrating that the environment and the economy go hand in hand."