E.B. Horsman & Son Again Named One of Canada's Best Managed Companies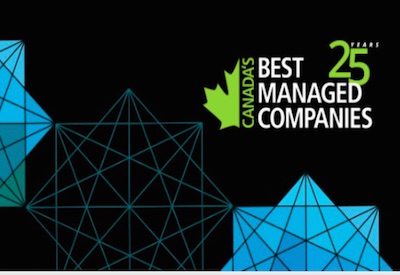 Mar 12, 2018
This year, E.B. Horsman & Son achieved Platinum Club status by retaining its Best Managed designation for nine consecutive years. The 2018 Best Managed program award winners are among the best-in-class of Canadian owned and managed companies demonstrating strategy, capability and commitment to achieve sustainable growth.
E.B. Horsman has been supplying products as an independently owned family business since 1900, and has 21 service locations in BC, Alberta and Saskatchewan.
The Platinum Club designation from Canada's Best Managed Companies speaks to the continued growth that E.B. Horsman & Son experienced throughout 2017. Last year E.B. Horsman & Son expanded with a second location in Alberta (Calgary) and the acquisition of Intec Controls which, after a 111-year absence, brings E.B. Horsman & Son back to its Saskatchewan roots.
"Being amongst the best in class requires more than financial performance," says Peter Brown, Partner, Deloitte and Co-Leader, Canada's Best Managed Companies program. "Achieving sustained growth and strong overall business performance is the result of the combined efforts and commitment of the entire organization."
Applicants are evaluated by an independent judging panel comprised of representatives from program sponsors in addition to special guest judges. 2018 Best Managed companies share commonalities that include a clear strategy and vision, investment in capability and commitment to talent.
"In a business environment where many choices for electrical suppliers exist, the Best Managed designation provides the credentials that we can be a strong partner to our customers. Best Managed is a symbol of quality, reliability, and consistency in the Canadian market place," says Tim Horsman, President & CEO of E.B. Horsman & Son.
The Best Managed program is sponsored by Deloitte, CIBC, Canadian Business, Smith School of Business, TMX Group and MacKay CEO Forums.