LumenRadio Putting Wireless Mesh Technology to the Test at SPS Trade Show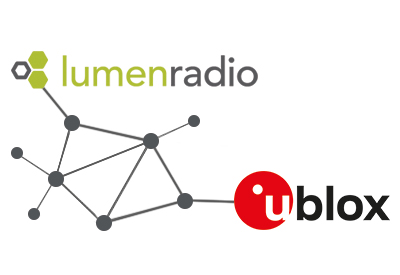 Nov 25, 2019
Trade fairs are great examples of environments with lots of radio disturbances and it's a widespread opinion that showcasing wireless technology at a tradeshow is doomed to fail. But at a tradeshow like SPS, with a focus on smart and digital automation, it's necessary to be able to showcase wireless connected products for harsh industrial environments. LumenRadio takes on the challenge and will run a live demo between u-blox's and LumenRadio's booths.
The significant radio disturbances at trade fairs are due to a lot of people being crammed in a limited area, thousands of visitors with mobile phones in their pockets, many different Wi-Fi networks running in parallel, which all means a heavy usage of the same 2.4GHz frequency band. This leads to congestion in the radio environment resulting in interference, data losses and lots of problems.
THE "INTERFERENCE OF THINGS"
The 2.4GHz band is very popular because it's a licence free band all over the world, which means that your product can use the same frequencies globally without special configuration. If you, as a product manufacturer, use the 2.4GHz band there is no need for certifying and managing multiple versions of the same product to be able to sell it globally.
But when more and more devices are getting connected to this same frequency band interference becomes a real problem and this congestion could make your wireless enabled product have degraded quality of service or even stop working completely.
The question is; Is there a solution to this exponentially growing problem with interference or is the 2.4GHz band doomed? Is this frequency band now home to the Interference of Things rather than the Internet of Things?
COEXISTING WIRELESS MESH
Luckily the solution already exists, and this will be showcased at SPS in Nuremberg on the 26-28th of November. By running LumenRadio's reliable wireless mesh technology on u-blox radio modules for industrial applications, all doubts will definitely be erased about bad performance of wireless connectivity in harsh industrial environments.
Live at the trade fair they will build a mesh network between LumenRadio's and u-blox's booth separated in two different halls, using the embedded operating system called MiraOS from LumenRadio and NINA radio modules from u-blox.
SPS NürnbergMesse – November 26 @ 08.00 to November 28 @ 17.00
LumenRadio – Hall 6, Booth 150L
U-blox – Hall 5, Booth 456