100 years of the Electric Home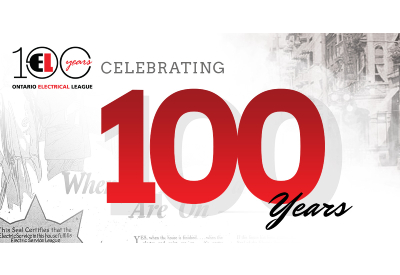 January 11, 2022
The Ontario Electrical League (OEL) is celebrating 100 years of reliability within the electrical industry in Ontario. The OEL's long history matches the life and colour of their rich membership base, and its original mission to promote, strengthen and represent Ontario's electrical industry remains an important purpose today.
Founded on January 11, 1922, the OEL was originally known as the Electric Home League, which focused on the use of electricity in the home and was the birthplace of the Red Seal in 1923 – a pioneering symbol of reliability in residential wiring and the first "standard" for residential wiring. By 1930, roughly one million fully wired electric homes had been built in major Canadian cities. Training was the name of the game in the 1940s, a time in which the League operated fourteen wiring schools to keep the trade going strong. The industry gained another place to come together with the launch of the Annual Conference during this time.
During the 1960s, the League truly became the OEL in namesake. The Electrical Service League of Ontario and the Electrical Heating Association amalgamated as one corporation in April of 1966 under the new, official name of The Ontario Electrical League.
By the 1970s, the OEL was providing direction to the industry on electric heating, including being the source for training. The 1980s brought on huge advancements in technology, including computers, cell phones and so much of the modern technology society has come to depend on.
The 1990s highlighted the critical issue of creating a single system of contractor licensing. The OEL rang in the new millennium by continuing to transition to a more contractor-focused organization, resulting from deregulation, and building on the existing Contractor Committee. By the 2010s, The Ontario Electrical league had a solid reputation as the voice for open-shop electrical contractors in Ontario.
The OEL is set to host their annual Electrical Industry Conference on April 27-30, 2022, at the historic Omni King Edward Hotel in downtown Toronto. Members, industry partners and special guests will come together from across the province for several days of knowledge sharing and celebration, including the annual awards dinner. The Electrical Industry Conference is where electrical professionals make connections and network with like-minded professionals to help grow their businesses.
Here's to another 100 years for the Ontario Electrical League! To see how you can get involved, visit www.joinoel.ca.