OmniCable Hires David Bemoras to Launch and Lead a New Communications Business Unit in 2023
July 12, 2023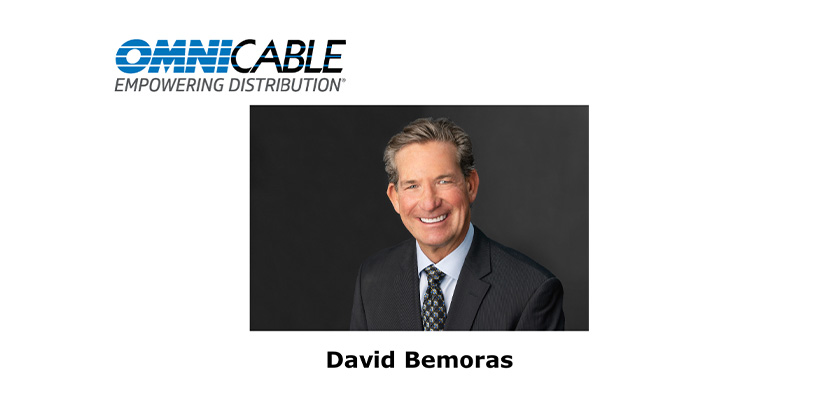 Omni Cable, LLC (OmniCable) is excited to announce the launch of its newly formed Communications Business Unit and the hire of David Bemoras as its President. In this role, Bemoras is responsible for leading the business unit and growing the low-voltage and communications products business with distributors.
OmniCable brings value to manufacturers through the collaborative execution of efficient procurement programs. This collaboration enables manufacturers to improve service levels while reducing production costs, minimizing excess inventory, improving cash flow, and lowering transaction costs. Based on extensive feedback from distributors and manufacturers, OmniCable's plan is to bring that same approach to the communications product/market segments.
Leading the business unit is industry veteran, Bemoras. Bemoras has over 30 years of sales, marketing, executive, and industry experience and leadership.
Bemoras founded GNWC Wire Cable & Network Products in 1983, where he grew the business from the ground up, taking a single operation and expanding its product suite to one of the fastest-growing distribution companies nationwide. In 1997, he partnered with private equity and Communications Supply, and was part of the executive leadership team that executed an industry consolidation acquisition strategy that created a national $750 million dollar distribution business. In 2006, Communications Supply was sold to Wesco International. Bemoras then became President of the Data Communications/Low Voltage Division at Wesco. During his 11-year tenure with Wesco, he also served as the Global Executive Vice President of Sales and Marketing.
Related Article
Dot Family Holdings (DFH), the investment office of the Tracy Family, announced Tuesday that Greg Lampert has retired from his role as CEO of OmniCable.