Lutron Electronics, Signify, RVE and ABB Electrification Canada recognized at MCEE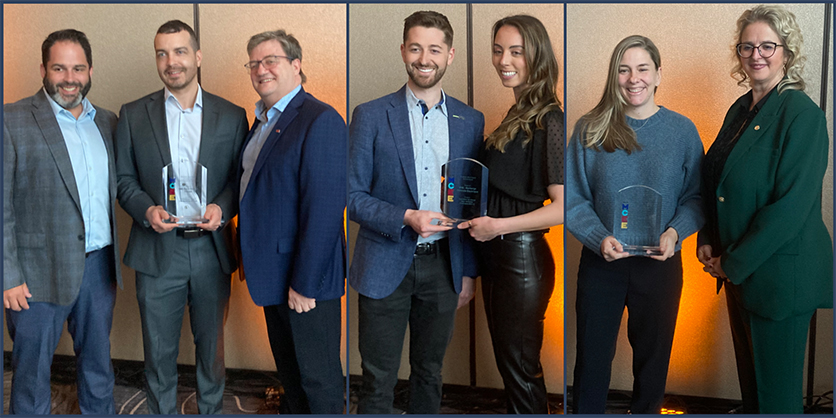 April 24, 2023
The winners of the MCEE 2023 New Product Competition were announced in front of nearly 150 industry players. In all, nine manufacturers were recognized for their product innovation. Come visit the MCEE lounge at the Palais des congrès de Montréal on Wednesday, April 19, from 9 a.m. to 6 p.m., and Thursday, April 20, from 9 a.m. to 4 p.m., to discover the contest winners!
Among the nine winners were Lutron Electronics and its Athena Wireless Control Unit product in the "Software, Controls and Related Components" category, Signify which won in the "Indoor and Outdoor Lighting Products" category thanks to the new product Ledalite NatureConnect Luminaire, RVE – Electric Vehicle Charging which is the winner in the "Domestic Electrical Products" category for its DCC-12 Electric Vehicle Charge Control and, finally, ABB Electrification Canada and its new product Star Teck® Fittings at 90 degrees (ST90 series) which is the winner in the "Commercial, Institutional and Industrial Electrical Products" category.
The winning products will be visible in the New Products Showcase at MCEE. This two-day event is the largest trade show for the building mechanics, electrical and lighting industry in Canada. It brings together nearly 400 exhibitors and attracts thousands of buyers and decision makers.
Thanks to the members of the jury
The organization of the MCEE show would like to thank the members of the jury: Guillaume Blouin (Order of Engineers of Quebec – OIQ), Yannick Bouchard-Latour (Order of Professional Technologists of Quebec – OTPQ), Marc-Olivier de Tilly (American Society of Plumbing Engineers – ASPE), Ronald Gagnon (American Society of Heating, Refrigerating and Air-Conditioning Engineers – ASHRAE), Imed Laouini (Corporation of Master Electricians of Quebec – CMEQ), Antoine Rivard (Corporation of air treatment and cold – CETAF), Mihaï Razvan Pecingina (Illuminating Engineering Society – IES) and Dany Litwin (Corporation of Master Pipe Mechanics of Quebec – CMMTQ).
The MCEE lounge
The MCEE show is organized by the Corporation of Master Pipe Mechanics of Quebec (CMMTQ), the Canadian Institute of Plumbing and Heating (ICPC), the Corporation of Master Electricians of Quebec (CMEQ), and the Corporation of Processing Companies of Air and Cold (CETAF), in collaboration with Electro Federation Canada (EFC).