Get Better Lighting, Save Energy, and Enjoy Hassle-Free Installation with Solar Streetlights available at Guillevin Greentech
May 5, 2023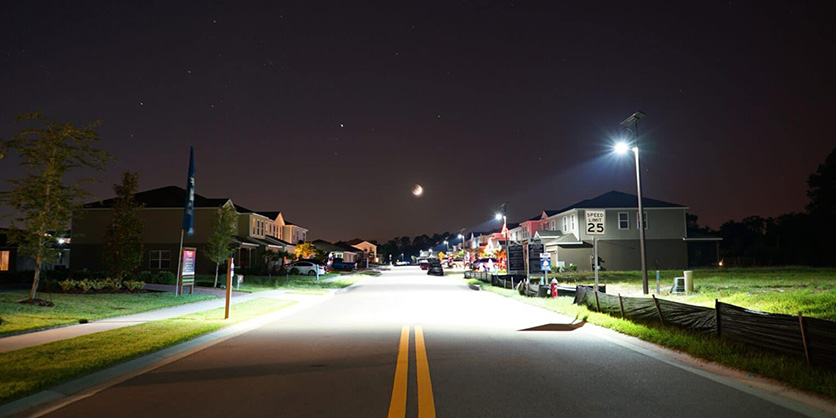 Elle Bremmer
As one of the largest distributors of renewable energy solutions in Canada, Guillevin Greentech is proud to offer its customers cost-effective solutions with its solar streetlights. This superior technology provides municipalities with better lighting and ease of installation.
Le monde de l'électricité en ligne spoke with Guillevin Greentech's experts, Ndiaga Mbaye and Viviane Lapointe, who answered all our questions. From how the technology works to its uniqueness and benefits, the experts give us a good knowledge of the product.
"A solar streetlight is composed of the following elements: a solar panel, an electronic energy management system, a battery and an LED light. It is powered by solar energy. That is, it is equipped with panels that capture sunlight during the day. This allows it to produce electricity that is stored in a battery and then returned at night for lighting," says Ndiaga.
Manufactured by Sol by Sunna Design, the solar lighting systems are both efficient and affordable, and meet IES standards. The solar streetlights include the EVERGEN, UP4, UP4 Dual and UP2 models.
What the Experts Say
The solar streetlights offered by Guillevin come with a 10-year warranty, which Ndiaga says is the longest on the market. Breaking down the lifespan of each component of the streetlight, he explains that "the solar panels have a warranty of about 25 years but could last 30 to 35 years. The battery has a life expectancy of 10 to 20 years."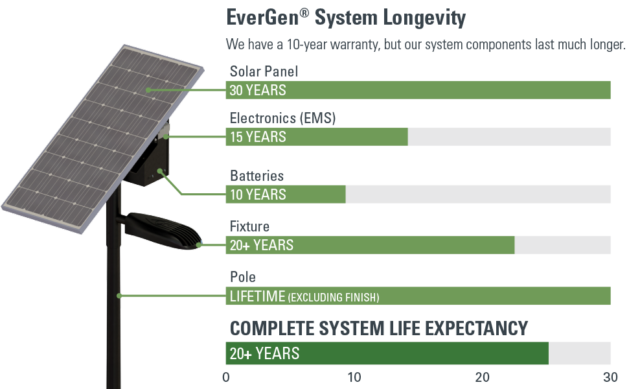 Viviane adds that traditional streetlights "typically cost ten times the price of your streetlight in terms of maintenance and labour, for a shorter life span."
"They have an embedded interior intelligent chip that works with NASA data," she says to describe the intelligence of the technology.
To measure potential energy, they use a data-utilization process called solar insolation. This one is key to providing four-season lighting.
Guillevin Greentech's Design Process
Guillevin's team of experts will conduct extensive testing and research to ensure that the installation of solar streetlights is optimal for the area.
The options are almost endless, she describes: "Do we place them in a staggered pattern? Do we place them peripherally? Do we place them in a more condensed fashion? It all depends on the Lux that's going to come down from the streetlight depending on the height and width of the product, and its positioning."
Ndiaga explains the importance of studying the configuration of the place to obtain good lighting, because "A uniform distribution is necessary to eliminate the effects of 'blue smog' and light. That's why we do a photometric study. This allows us to have an estimate of the number of lights required."
In addition, you can view potential blockages as well as your energy consumption and production for the past three days on your cellphone app, which offers personalized data and ease of use. Everything is in real time, depending on your app, and if something comes up to block the light, you can see that data as well.
In addition, the data can be saved in the cloud, so it can be accessed without the internet if needed, and the system can be adjusted remotely. For example, you can set your streetlight to be at 20% capacity all night and 100% capacity when motion is detected. You can also amplify the lighting just before sunrise and after sunset in the winter for all types of commuters, then dim or turn it off to allow them to recharge outside of those hours. Depending on the context, this reduces energy waste and ambient light pollution, which is "good for turtles and frogs," Viviane says.
So as for the other potential blockages mentioned, such as a snow buildup, both responded that there would be no blockage because the panels themselves give off some heat, but the design of the streetlight itself doesn't allow for much buildup. And if there were to be a blockage for any reason, you would be notified of the problem immediately on the app.
With Guillevin's solar streetlights, you can move the streetlight itself thanks to its anchors, which can be a huge advantage when you're working on a construction site, and you can easily move it (about 100 pounds).
Ndiaga adds that "the streetlights require little or no maintenance. They are installed in only 30 minutes and, because they produce solar energy, the electricity produced is free."
If there is a power outage in the city, the streetlights will always stay on because of their isolated energy production. On the darkest days of the year, only two or three hours of light is enough to charge your batteries for the next four days.
With the support of the Guillevin Greentech team, installation is quick and easy, and they can help you assess your project needs. Sol by Sunna Design's line of solar lighting systems is an important step in the transition to green energy and a great way for cities, towns, and businesses to meet their sustainability goals while remaining affordable. Efficient and sturdy, a solar streetlight is sure to light up whatever you need for years to come.
You can click here to learn more.