Kuehl Electric: Full Service Provider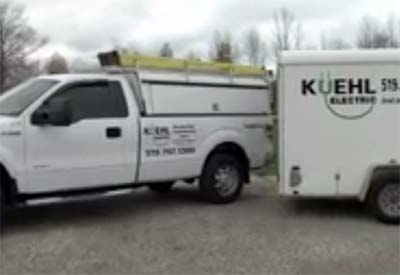 Southampton, ON is the home of Kuehl Electric. A licensed electrician in the province of Ontario Kuehl Electric is a fully insured, licensed and authorized Electrical Safety Authority contractor. They install stand-by and portable generators, as well as supply and install electrical material with a focus on exceeding electrical code-compliant work. 
Kuehl's team of ESA-compliant electricians have been trained and are well respected locally for their work in residential, industrial, farm, and commercial projects. With a fleet of three fully equipped service vehicles, Kuehl's team have been involved in numerous projects from energy efficiency and energy star installations right though and including New and commercial retrofits.  
Of interest to the team at Electrical Industry is Kuehl's mention of their supplier and electrical equipment providers, which include many of the leading names supplying Canada's profession electrical contractors. AMong the names mentioned on their site are Leviton, Thomas & Betts, Siemens, Arlington, Square D by Schneider Electric, Cutler-Hammer by Eaton, OSRAM, Lightolier, Scepter, Pass & Seymour and Wire Mold by Legrand, RAB Lighting, Hubbell, IBERVILLE, IDEAL, Ouellet Canada Inc., Generac Generators, and King Canada Generators. Few contractors adopt this approach.
Professional affiliations include the Saugeen Shores Chamber of Commerce, Electrical Safety Authority (ESA), and the Canadian Federation of Independent Business (CFIB).
Find out more: www.kuehlelectric.ca/en/.