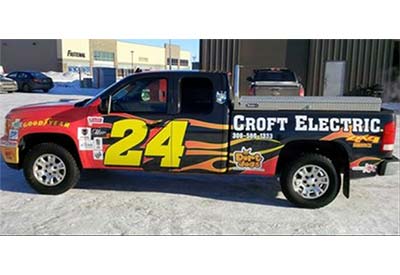 From their well-followed Facebook and Twitter profiles to their new custom service vehicle graphic wrap and testimonials from satisfied customers, Croft Electric is using its motto 'Do It Right, Do It Once' to address more than just their electrical services.
Croft Electric has been providing electrical services to the Regina area for over 15 years, offering commercial, industrial, farm and residential expertise.  Founded by Daniel Croft, Croft Electric now boasts an impressively diverse portfolio, including key projects in the oil segment, Airport 2000 Upgrades, Shoppers Drug Mart, Inland Aggregates, DirectWest Publishers, Harvard Communications, Croft Aggregates, Harvard Developments, Regina Court & Fitness and SaskTel's Building and Property Regina.Croft Electric custom designs and implements the right electrical solution for new construction projects and renovations.Croft Electric has also introduced building/home automation systems that do everything a customer can imagine in terms of personalizing their home's environmental, power and entertainment systems.
The staff is comprised of electrical specialists that can handle many industrial tasks, including industrial electrical motor and control requirements and electrical installation and maintenance.  
The Croft staff makes this promise to its customers:
• Our organization is diversified in our skills, technology, knowledge and resources, enabling us to meet all your electrical requirements.
• Our prompt job assessment allows us to develop your electrical solution in a timely fashion and within projected budgeted expenses-guaranteed.