Peerless Electric Wants You to Keep Your Eyes Up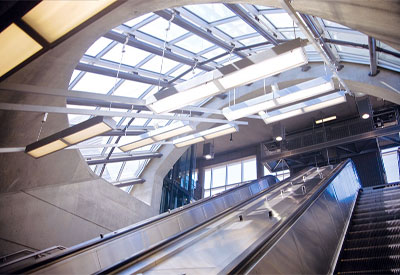 Whether you've enjoyed a hockey game at the Bell Centre in Montreal, shopped at a Wal-Mart store or flown through Pearson International Airport in Toronto, you've likely stood under a Peerless-Electric luminaires. Some of their projects include Canadian Tire stores, Dollarama stores, Montreal metro stations, the University of Toronto, and the Alberta Children's Hospital.
The company specializes in the manufacture and supply of fixtures for the commercial, industrial, institutional and medical fields. Founded in 1939, with an ISO 9001-2008 Certified manufacturing plant in Montreal, additional facilities in Toronto and Calgary, and sales representation across Canada and the U.S., the company is well equipped to provide leading edge fixtures across North America.
Among the product offerings you'll find:
• a full-range of fluorescent and LED fixtures
• high quality European style incandescent, HQI and low voltage luminaires
• specialty architectural luminaires for direct and indirect lighting
• highly specialized custom designed fixtures
• industry leading customer service with respect to all aspects of lighting design
Visit the newly designed bilingual website of the company at www.peerless-electric.com.