Gilbert-McEachern Electric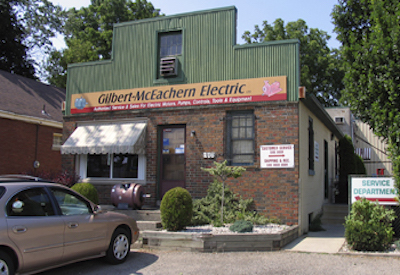 Based in Brantford, ON, Gilbert-McEachern Electric is a key provider of electrical and mechanical products and services for southwestern Ontario. The company originated in the late 1940s as a one-man shop that provided machining services to local Brantford companies.
In its early days, this small shop proudly serviced a local manufacturer of munitions and marine engines used in Canada's war effort.
Gilbert-McEachern Electric has remained a family owned business, and provides personal and fast response services that ensure commercial and industrial clients will keep their vital motor and pump systems operating. Here are just some of the people you'll meet at Gilbert-McEachern Electric:
Mal McEachern, President/General Manager/Owner. Mal joined the Gilbert McEachern Electric team in 1979, learning new skills from then owner Jack Gilbert. Over the years he learned the repair business and in 1982 was given a great opportunity to become the owner . Mal oversees all the coordination of sales and services and strives for fair value and quality service to create the utmost customer satisfaction. Mal believes that, "as the owner, I have the vision and must set the goals for the rest of the staff and drive the focus of sales to deliver quality service to our loyal customers."
Bob Rutherford, Sales Manager. Bob graduated from Conestoga College with a background in electric motor rewind and repair. Soon after, in 1988, he joined the Gilbert-McEachern Electric team. He started out repairing motors and over the years moved into pump sales and repair. Bob strives to grow the company by better serving the customers with knowledge and technical data to meet their needs. Bob is part of the management team and is head of technical sales of pumps and motors. Bob believes the most important part of his job is "to make the experience of the customer more rewarding to purchase the products they require".
Troy Faria, Inside Sales. Troy became part of the Gilbert-McEachern Electric team in December 2005. He learned everything he knows today from Gilbert-McEachern Electric, in the process becoming a valuable member of the team. Troy also gained knowledge through training sessions with Sprecher and Schuh Control Products and in-house experience with motor controls. He can most often be found at the front counter, answering general sales calls and answering customers inquiries. Troy believes the most important thing is "giving the customer what they want, solving their problems and exceeding their expectations to give the best customer satisfaction possible."
Brad Jones, Sales Representative. Brad joined the Gilbert-McEachern team in 2013. He graduated from Niagara College in 2009 in Business Administration and Marketing. He spent his coop work term at Niagara College with the Gilbert-McEachern team, which pleased when he accepted a position with the firm; his work ethic and cheerful enthusiasm makes him a great addition. Brad believes in "providing the best advice, answers and results for every customers wants and needs."
Brad Stevenson, Service Manager. Brad joined the Gilbert-McEachern Electric team as Service Manager in July 2010. He brings a background of manufacturing, maintenance and purchasing, as well as general machine repair. Brad believes that customer satisfaction is the most important goal Gilbert-McEachern Electric can achieve. Good quality workmanship, on time delivery and fair pricing is what Brad strives for when managing the Service Department. Brad believes it is crucial to "maintain good quality workmanship and fair pricing for both the company and the customers."
Rob Veber, Electrical/Mechanical Technician. Rob joined the Gilbert-McEachern Electric team in February 2005. Rob has a background as an electric and mechanical technician, as he was previously employed by GE Appliances and Ed-Etech Industries. Rob is very talented in several trades which is a huge asset. His responsibilities are machining, welding, diagnosing of motors electrical and mechanical failures, and assembly of the final repaired product. Rob loves a challenging repair. Rob believes he needs to keep learning as much as he can on a daily basis and says, "its important to enjoy what you are doing."
Laura Kitchen, Purchaser. Laura joined the Gilbert-McEachern Electric team in August 2008, over the years learning the ins and outs of the trade and becoming a valuable team member. Laura ships and receives all Gilbert-McEachern products and also assists the Customer Service Department through phone management and various administration duties. Laura believes through hard work and team work that Gilbert-McEachern Electric will continue to be successful for years to come.
Reg Bowman, Rewinder/Technician. Reg joined the Gilbert-McEachern Electric team in May 2005. He previously worked in three other shops over 20 years, gaining invaluable skill sets and knowledge before joining the Gilbert-McEachern Electric staff. Reg's primary responsibilities are to repair and rewind electric motors. He also is versatile in trouble shooting electrically and motor redesign. Reg strives for a quality repair in an efficient and timely manor. Reg believes, "It is important to help the customer to the best of our abilities and provide them the utmost customer satisfaction."
Products include:
electric motors
pumps
electric motor controls and automation gear reducers
fans and blowers
transformers and generators
Services include:
electric motor rewinding
electrical repair
mechanical repair
pump repair
part sourcing
panel building
servo motors
Find out more: http://www.gilbertmceachern.ca/index.php.