Holley Electric Ltd. — Over 100 Years of Quality Service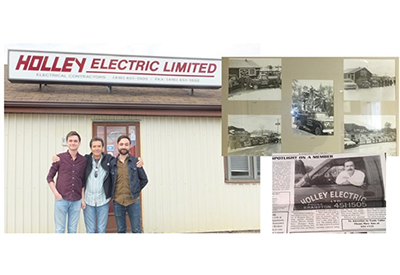 September 28, 2016
When you walk into Holley Electric Ltd., you can't help but feel an ambiance of pride. Pride in their history, for the quality of their work, and an appreciation for their customers. Holley Electric is successful because of its commitment to quality through the skills of their staff and the relationships they've cultivated over the last 102 years.
Since 1914, Holley Electric has been located in Brampton, Ontario. They've been servicing the city's thriving agricultural economy, now providing a full range of electrical services. These include but are not limited to commercial electrical wiring, electrical panel repair, electrical contracting services, generation installation, generator repairs, and knob and tube wiring replacement. Their services are available 24 hours a day, 7 days a week. The company history spans four generations, with Gerry Holley as the third generation president and owner.
Gerry joined the family business in 1984 as an electrical apprentice under his father and took the helm 1993. Today, his two sons, Lucas and Russell, continue the family's legacy and serve as the backbone of the business, alongside Doug Donaldson, master electrician and project manager for the company.
Holley Electric employs approximately 20 full-time electricians year-round. They can do this because the staff and crew work hard to ensure client satisfaction, thus being able to stay competitive and sustainable.
"Anyone who works in this industry knows that this has not always been a full-time job," Gerry says.
This mentality was the driving force behind Gerry's plan to ensure Holley Electric's staff and crew could enjoy work-life balance. He wanted to make sure that his staff had a reliable career because he knew that they also have families to go home to.
As for how they've been able to stay successful over the last century, Gerry attests that to being humble, staying level-headed, and being smart about business needs and changes.
"Guys today are passionate, they love their trade and they love to talk about their wires, and I get that," says Gerry. "But that's not enough. Success happens when that person can properly run a business."
This is where being part of an organization such as the Ontario Electrical League can help, because it looks out for their members, and try to help them understand the intricacies of running a successful business, among many other factors.
Really good electricians have a hard time deciding whether or not they want to work in the field or start their own company. If there's one thing that Gerry can offer as advice, you'll need to have support if you're prepared to turn your passion into a business.
"You can be a very good electrician or you can be a very good business person, but it's very hard to be both and do both well," says Gerry. "Only when that electrician is properly supported in running a business, can successes happen. Until then, you'll just be spinning your wheels."
Holley Electric services a wide range of clients, from municipalities to school boards, and small businesses to residential. They offer maintenance and electrical solutions, all while maintaining relationships that allows their clients direct access to their knowledge.
"We value the trust that our clients have instilled in our company," says Lucas.
"We talk to our clients and help them understand problems, or strive to educate them. This is how we've been able to stayed significant, in an otherwise oversaturated industry."
Holley Electric enjoys a rich history that's deeply rooted in the city where they live and in family. They have developed a great business model by being good to their crew, accessible to their clients and humble to their community.
For more information on Holley Electric Ltd., visit their website at www.holleyelectric.ca.
---
Huong Nguyen is the Ontario Electrical League (OEL)'s Marketing Communications and Chapter Support Representative. This article first appeared in OEL's Dialogue.