Disrupting the Power Sector with Spark Power Co-Founder and Co-CEO Jason Sparaga
July 10, 2019
By Blake Marchand
Spark Power Corp. is one of North America's leading independent providers of integrated electrical power services and solutions. They serve over 6,500 industrial, commercial, institutional, renewable and agricultural customers, as well as utility markets including municipalities, universities, schools, and hospitals across North America. Co-Founder and Co-CEO, Jason Sparaga took some time to discuss Spark Power's progression as a company, as well as his own progression from investment banking to the electrical industry.
Sparaga was trained and educated as a chartered accountant. He got into mergers and acquisitions in the early '90s which seeded an entrepreneurial career that would eventually lead him into the renewable energy and electrical power services industry. Prior to getting into the electrical industry, he ran his own investment banking firm, Spara Capital, "working with people who were thinking about either selling their business, acquiring other businesses, or partnering with private equity," he explained, until he began managing investments for himself rather than consulting. This led to his partnership with Andrew Clark, who serves alongside Sparaga as Co-Founder and Co-CEO, as well as Eric Waxman, who serves as Co-Founder and Chief Investment Officer at Spark Power Corp.
The partnership began as an entrepreneurial investment operation—the green energy sector presented them with an interesting investment opportunity that would put the founders on a path to create the robust electrical power services company that Spark is today.
"In our early stages, which was about 2009, The Green Energy Act had come out in Ontario and we had an opportunity to invest in the renewable asset space," Sparaga said. "We focused our attention on renewable energy co-op projects with farmers, which saw great success."
The co-ops – Agris Solar Co-Op and Green Energy Co-Op of Ontario – were very successful, as Sparaga mentioned, and Spark Power continues to manage those assets under a 20-year agreement.
They would also get into some development work with IESO (Independent Electricity System Operator) on some small assets, leading to a large 14-megawatt, 100-acre project. The latter would eventually be sold to Oakville Hydro.
"That was the basis for us getting into the power sector, within the renewable energy sector," Sparaga noted, at the time renewable energy was the only sector they operated in. Now, renewables make up about 10% of their business, as they have grown and diversified as a company.
Around the end of 2012, Sparaga said, "it was people in the office managing assets and doing development work."
They were operating as developers, obtaining contracts from the OPA (Ontario Power Authority, which now operates as the IESO), managing and selling assets, and contracting out the technical work.
"In 2013, we started acquiring service companies. What we saw was that the development and asset management business was going to be taken over and dominated by huge global corporations with very cheap capital and we weren't going to be able to compete; the Green Energy Act was going to go away, as it has since," Sparaga explained, they would either have to morph their business or sell it off. Obviously, they went with the former option and moved away from development with a strong focus on the service side of the industry. Jason Sparaga alongside Damien Schneider, Renewable EnergyTechnician for Northwind.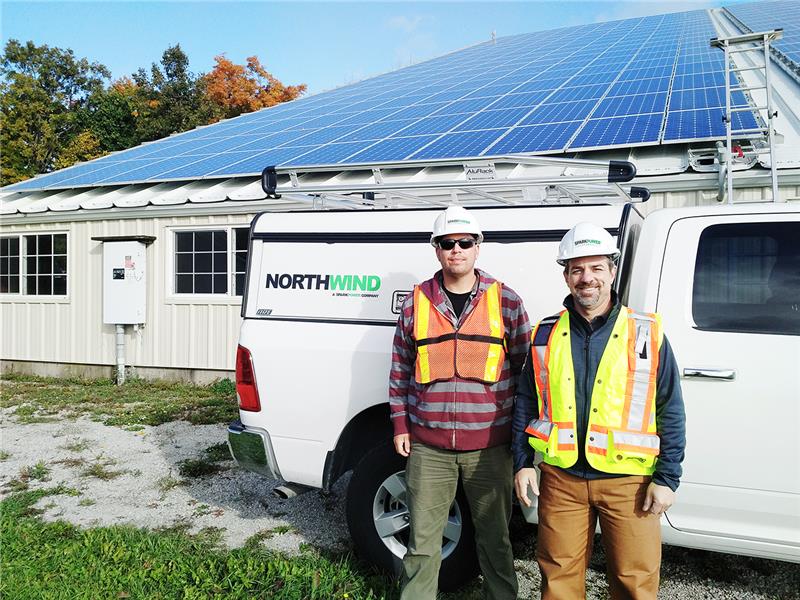 By mid-2013 Spark had acquired a company called Northwind Solutions, still operating solely in the renewable space. The company has since become the leading independent renewable asset service, maintenance provider and operator in Canada, and fourth largest in North America.
"So, we said 'okay, how can we continue to best serve our customers? What other technical services can we get into?' Because that was really keeping us confined to solar and wind assets. We decided to take the first leap off into medium and high voltage electrical."
They began acquiring medium and high voltage contracting and engineering firms, purchasing five Ontario firms that altogether employed approximately 150 people in that space. The majority of those businesses were in the industrial and commercial sectors of the industry.
At that point, they were on customer sites doing high and medium voltage work, although they weren't doing any of the low-voltage work in the facilities themselves. "That's when we brought New Electric on board in January of 2017," Sparaga noted, "and that took us into industrial, commercial, and institutional (ICI) manufacturing plants and facilities."
New Electric had already been established as a premier company focused on providing low-voltage electrical installations, service, maintenance, and contracting for highly specialized industrial applications. "Typically, in highly automated electrical process environments of high-power users and companies listed on the TSX Financial Index, those kinds of operations."
With the New Electric acquisition, they could now offer, as Sparaga described, 'pole-to-product power solutions', where they can handle all of an industrial plant's electrical needs.
The next step for growth was to incorporate power systems engineering into their portfolio, which led them to acquire Orbis Engineering in the summer of 2018, a company that dealt with large scale utilities in Western Canada. The acquisition was geographical as well; it allowed Spark Power to broaden its footprint in Canada. They would make another geographically driven move to acquire the California branches of New Electric, which again opened them up and expanded their reach into new markets.
"Our vision is to be the leading independent provider of integrated power solutions to the industrial, commercial, and institutional markets across North America," Sparaga explained, "right now, we are a leader, we want to be the number one provider in that space by 2023."
"We are going to get there in two ways: one is to grow organically by opening up new branches and locations; the other is through acquisitions."
Sparaga explained that for Spark Power to achieve that vision, approximately 50% of their revenue has to come from the United States, "that's just how the market plays out," he noted.
Trends Driving the Direction of the Company
"We look at it in two buckets – one is on the distributed grid and the movement away from centralized utility models – so what it does is put the power (no pun intended) in the hands of the customer, because they are going to have choice on how to get their power, when, how to contract for it, enabled by technologies or platforms trading in power and renewable energy credits. That's the one tailwind that pushes all of this stuff around the integration of renewables into your operations, energy management, trading, and to a certain extent the gear you might employ on site."
"The other tailwind, probably even more powerful than we first thought, is the move to advanced and automated manufacturing, and the electrification of everything, because that drives the activity that 75-80% of our employees do every day – which is the actual physical work of integrating power for new technologies for production lines." An advanced manufacturer, for example, "might say, 'we're going from this highly manual environment, where we have 1000 people in this facility, we're going to bring it down to 500 people and we're going to replace that with 15 robots and four conveyors,' that is huge work for us. The electrification of everything is a big tailwind, and of course, it's no secret that's exactly what is going on across the industry."
"Our model is, and this is a critical piece that shouldn't be left behind, if you are going to be that player, you have to be where your customer's facilities are – you can't do that from one tower in Toronto, you have to have branches all over North America. Our strategy is to be 100-plus branches so that we can give the same offering in Raleigh, North Carolina that we're giving in Vaughn, Ontario."
Typical Projects
Electrical Industry Canada asked Mr. Sparaga to give us an example of a typical project for Spark Power. Sparaga singled out the food and beverage industry, as it takes up a good portion of their business, about 10%.
"We would have a multi-national that would want to upgrade their production line," that includes "sophisticated equipment coming in that has to be integrated with control panels and software platforms." Given the highly technical automated processes and the associated programming, software etc., "you can't just hire any trade electrician organization, you need to have embedded, highly skilled people," generally a company will also want "guidance on how to engineer that environment in order to maximize it," from an economic efficiency perspective to get the most out of an automated process with respect to production and return on investment.
Sparaga explained that would be a 6-12-month project utilizing a couple dozen technicians as well as their engineering staff, producing about a million dollars in revenue. He added many of their companies have been around for 30-40 years, with long-standing customer relationships. A good chunk of their revenue comes from servicing and maintaining those customer's various facilities, "then the system will need upgrades or to be decommissioned," he said, "or they'll build a new facility with specialty work."
Generally, they will have 12 or so medium to large projects on the go at a given time, while also doing regular servicing and maintenance projects.
They will also do lots of work with material handling companies putting in sophisticated material handling systems.
Disrupting the Power Sector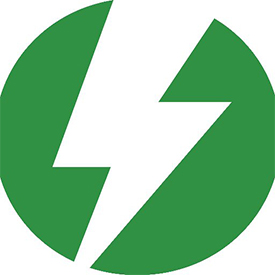 In 2018 Spark Power continued to expand on the breadth of their service offerings by acquiring Bullfrog Power, Canada's leading green energy provider, offering renewable energy solutions that enable individuals and businesses to reduce their environmental impact and support the development of green energy projects in Canada. Bullfrog now represents the 'Power Advisory and Sustainability Solutions' piece of the Spark business and offers customers power from renewable energy sources such as wind, low-impact hydro and green natural gas. Now, with a focus on power advisory and sustainability, Bullfrog is helping companies meet their green energy quotas by trading renewable energy credits through corporate and virtual power purchase agreements also known as PPAs.
"We purchased them because we wanted to have this other piece to our business," Sparaga explained, as Spark Power was already in the field providing 'pole-to-product' services, Bullfrog brought them into the boardroom from an energy planning perspective.
"When we think about what being the leading independent power solution provider means for our customers, we're talking fully integrated – all the power infrastructure, how they buy and sell power, sustainability mandates; anything to do with electricity and power we should be able to talk to our ICI clients about it."
"More and more, these large companies do want a partner they can just go to and say, 'how should we be thinking about our electrical and our power needs?' Because it's a grid, everything is connected."
If you swing by Spark Power's 'about' section on their website, you'll see that one of their mandates is to "disrupt the power sector." This fully integrated model is the primary way they plan to do that. It's a trend you typically see on a smaller scale with engineering firms that will rebrand themselves as solutions providers. Spark Power is taking that fully integrated 'solutions' model and applying it to the broader scope of the electrical and power industry. Being a connected system, from power supply right down to manufacturing, Spark Power is able to look at the full scope of a client's needs. They are able to streamline the process, providing a more efficient and cost-effective solution.
Ultimately, their success has been defined by their ability to read market trends, foster a quality corporate culture, adapt their strategy to the challenges and evolving market opportunities, and provide clients with innovative pole-to-product solutions.
Blake Marchand is Assistant Editor, Kerrwil Electrical Group