Alex Couckuyt, Southwire Canada's Director of Operations, Discusses His Career and What Has Contributed to His Success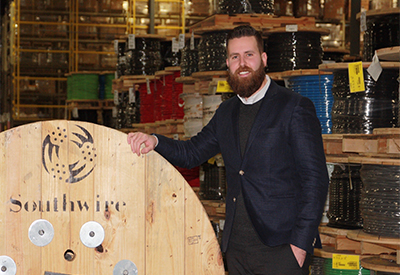 Nov 18, 2019
By Blake Marchand
Alexander Couckuyt, Director of Operations for Southwire Canada, spent the majority of his formative years in Belgium where he undertook his schooling in Business Marketing and Sales before entering an Electrician Apprenticeship program, and working as a licenced electrician as well as an independent contractor for three years.
His work as a contractor would eventually lead him to his current position. Working with suppliers as an electrician, Alex was presented with an opportunity to work for CEBEO, one of Sonepar's operating companies. He accepted an Inside Sales Rep position, working on the opposite side of the contractor/supplier dynamic.
Alex worked there for two years before moving back to Canada and taking a job with Southwire Canada as an Account Manager. Born in Canada, Alex moved to Belgium at the age of seven. He had always intended on moving back to Canada at some point, he noted.
Alex made his way up the company quickly, moving from his initial role into a Supply Chain Analyst followed by a Logistics position, where he worked for 9 months before becoming Supply Chain Manager. In that capacity Alex held responsibility for both for Southwire Canada's Supply Chain as well as their Mississauga Customer Service Centre. He stayed in that role for just over two years and was recently promoted to Director of Operations in July.
Being responsible for all Southwire Canada's Operations for Alex includes, he explained, "two Customer Service Centres, one in Mississauga and one in Calgary. Then we have our supply chain department, taking care of, obviously, supply chain and inventory management and our Canadian Customer Experience Team, which is a team of Account Managers that support our customer base from the inside sales point of view. So, my responsibilities, basically, span from the initial quote request to final delivery."
"I started as an Account Manager, then moved into Logistics – at this point, we didn't really have a robust logistics and supply chain department within the Canadian Organization," he said, something Alex was tasked with building up. "As I moved through the organization, I took those responsibilities with me, and really looked at streamlining how we can operate and supply our customers in the Canadian market."
Alex's schooling and work history, up until he took a position with Southwire, provided him with a solid academic and technical knowledge base which really prepared him to excel in the way he has with the company. Similarly, transitioning the way he did within the Southwire organization, from a commercial role to Supply Chain, Operations and Management, has allowed him to develop a broad experience base and ultimately given him firsthand knowledge of the of the areas under his purview. That also includes the end-user. Having the perspective of the customers, which Alex has from his experience as an electrician, is crucial to providing robust, well rounded Customer Experience.
"Going through that variety of academically focused schooling followed by trades has had a significant impact on my perspective in every role that I've held in my career. Starting off as a licenced electrician first – from a products point of view being an end-user of our products, then moving into working for a distributor really helped me understand the needs and the opportunities there are for our end-users to provide solutions that make their lives easier," he said.
"Now working for a manufacturer really provided me with a broad perspective of the various companies and people in that supply chain, going from manufacturing, making the product, right down to the end-user who is actually handling and installing it."
His current role comes with the challenge of bringing all those components together with the added layer of leadership responsibilities. Alex explains it well as, "Looking at how to leverage people, process, and technology. You need all three to really work well, align well together. When I look at what really challenges me, what interests me," he said, "fostering that culture of continuous improvement, optimizing the talent of the people you have as well as building out your teams to help drive your company to the next level."
That has been a positive challenge for Alex, particularly in his most recent roles, and one that he enjoys taking on.
Another focus for him is operational efficiencies. "How we can operate and execute as efficiently as possible and, again, how that all ties together with optimizing our talent and always continuing to improve."
With respect to the mentality Alex describes as continuous improvement, the state of the energy industry from the technological perspective makes it an exciting time with plenty of opportunity. Particularly for those with a forward-thinking mindset. "The whole sector really is transforming," he said, "From a technology point of view, the exciting impact and opportunities we're seeing come up from renewable energy resources, looking at things like the need for improving our energy storage capabilities, the creation of micro grids; wind farms, solar farms, transitioning from that centralized model of having one big powerplant providing energy for large groups of consumers."
The internet of things is also proving major opportunities for wire and cable, increased connectivity requires an increase in electrification. Making it an exciting time to be in the wire and cable industry.
From the business side of things, Alex noted there is a "rapidly changing competitive landscape."
"There's a lot of consolidation within the industry, large companies consolidating is definitely a trend impacting us" he said. Customer expectations are also rapidly evolving. Alex referred to 'the Amazon-effect', where customers are expecting increasingly quick turn around times on deliveries. Which includes increased visibility into the supply chain. Furthermore, with the progression of technology in this space there are certainly increased efficiencies to be had. Manufacturers, vendors, distributors must work closely to provide an optimal supply chain solution.
It all comes down to keeping the customer at the centre of their focus, being attuned to customer needs as the industry evolves, ultimately ensuring "the right products are in the right place, at the right time." In order to that, Alex explained, they must continue to leverage technology and align those advancements with the skills of their talented employees. "We have a really good team up here in Canada, a strong professionalism, and we're going to continue to focus on optimizing that talent and leveraging it further."
Often, and as Alex advised in our interview, success comes from a convergence of hard work and opportunity. In the four and a half years he has been with the company, Alex has certainly found a great deal of success. And that comes down to hard work, dedication, and the skills that result. But also, from the opportunities Southwire trusted him with. Which is why Alex took the time at the end of our discussion to express his gratitude for the opportunities Southwire has provided him with. Particularly Kelly Hanson, President of Southwire Canada, who he mentioned to be an exceptional leader and mentor. With his steady progression into Director of Operations, it is clear they provided him with an opportunity to prove himself within the organization by putting him in a position to succeed. And he has no doubt proved them right in doing so.
Blake Marchand is an Assistant Editor for Kerrwil Electrical Group