Company Profile: Panel Upgrade Experts
Feb 18, 2020
Panel Upgrade Experts is an electrical contracting company started seven years ago by Paul Hannania. Operating out of Calgary they specialize in residential panel upgrades, as their name suggests.
"We specialize in electrical panel upgrades, but we also do residential renovation," he noted. "For the last few years we have been doing a lot of electric car charging installation, mainly Tesla. We are only a small company, me, a couple of guys, and Jill who answers the phones and does the office work."
With the Alberta economy changing, Paul said they have been doing more renovations. They have also been getting more work in renewable energy. Along with doing EV charging installation, they are looking to expand into solar. "I'm looking forward to what the future holds," he said.
Paul has been in the electrical trade for 22 years. Beginning as an apprentice for his father at 17 while living in the UK, Paul has worked primarily in the commercial sector throughout his career in both Canada and the UK.
Like many small companies, Panel Upgrade Experts distinguish themselves by providing a high level of customer satisfaction, which allows them to establish long standing relationships with clients. Something that is key to growth.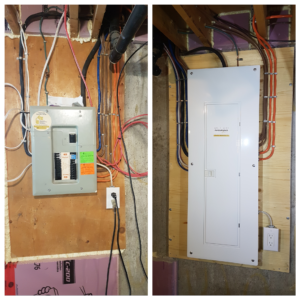 Initially, what led Paul to focus his company on electrical panels was the ability to develop a standard of high-quality work that could be easily recreated and marketed. "Panels are generally left exposed so we can show the quality of our work."
"I like jobs that can be repeated where the process can be refined to make the finished product a higher standard and completed in a quicker time," he explained.
"The electrical panel is the main component that isn't covered up by the end of the job. No one gets to see the neat wiring after drywall," which has allowed them to showcase their abilities as experts. And with that specialization they have completed hundreds of projects for clients, giving them the reps to perfect their processes.
Along with panel and power upgrades, they will also have jobs relocating electrical meters, raising overhead power lines, garage panels, renovations, as well as rewiring.