Comox Valley Electric Ltd: Service, Safety and Sustainability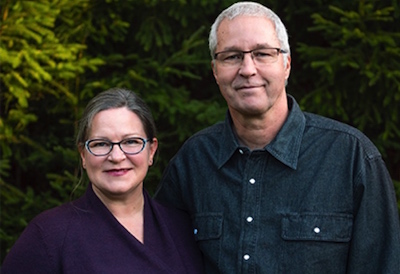 Feb 20, 2019
By Blake Marchand
Comox Valley Electric Ltd. is a family owned company located in Courtenay, British Columbia. Co-owner/operator Kelly Morrison possesses over 30-years of industry experience, and prides himself on providing exceptional service, maintaining a pristine safety standard, and upholding a commitment to waste reduction on all their projects. The company's owners and employees are continually learning and growing as a business, which enables them to provide that exceptional service.
Comox Valley Electric was formed in 2017 by husband and wife partners Sherri and Kelly Morrison, and as Sherri explains below, Kelly is a BC master electrician as well as a Red Seal journeyman Electrician with experience across residential, commercial, and industrial sectors. Sherri has 10 years of experience in construction and electrical administration.
Comox Valley Electric is a Better Business Bureau accredited company serving Courtenay, Comox, Cumberland and the surrounding communities. It serves the residential and commercial sectors of the industry, providing a long list of services, including renovation and new construction wiring, service calls and electrical repairs, smart lighting and electric car charger installations, landscape lighting, fixture ballast and tube lamp changes, bulb replacements and energy efficient LED upgrades, and leasehold improvements.
Can you tell us about the history of your company?
While our business is young, the history of our company spans three full decades. Kelly is a BC master electrician and a Red Seal journeyman electrician (since 1987). For over 30 years, Kelly amassed experience on many hundreds of job sites in all 3 sectors (residential, commercial and industrial) in positions ranging from journeyman up to superintendent. This broadly diverse experience is the literal foundation for our company, which we formed together in 2017.
Our goal was to build a family company rooted in a strong service ethic and the highest possible safety standards. My previous construction administration experience is my contribution to our company and remains my focus as I manage our office full time. Being a small owner-operated company has huge advantages. We are both actively involved in all daily activities and have a high degree of control over our field work and our customers' service experience.
Tell us a little bit about your team?
Two of our five children are electricians (and so is our future son-in-law), so you could say the trade is in our blood. As we are a young company, our core team is small, but we are poised to grow again in 2019 when we bring one of our adult sons on board to expand our team. We are grateful to currently employ two talented electricians who have helped us grow our business this past year. Both are highly skilled, careful workers, and we know we would not be where we are today without them. Our youngest two kids are now teenagers and they work for us on weekends to take care of job site cleanup and act as general helpers.
Additionally, we consider two independent local professionals to be key members of our team. Jesse at Bear Hill Bookkeeping is a cloud-based systems expert and is a constant source of valuable guidance regarding our company's optimization and efficiency. Aaron at Milan Web Development is a key member of our tech team and we can honestly say we would not be in business without him.
Why is it important for you to remain a family owned company?
In the short term, it's very rewarding to be building a business while creating opportunities for our family to work with us. It is our goal to build a company where each person can truly shine and be challenged in the ways they so desire. One of our sons is both an EMT and a construction safety officer, so as well as building his skills as an apprentice electrician, he will bring valuable first aid skills and safety training to the business in 2019. As far as long-term goals, while we can't foresee what the future will hold, we do think about succession and our eventual retirement, and this means passing the reins over to interested family members.
What makes Comox Valley Electric unique?
1. Our service. We work very hard with an aim to give the best service in the industry. Our customers and contractors are our number one priority and as such, all our daily activities revolve around making sure they are well taken care of. Be it a quick response to a service call request or taking the initiative to stay on top of a general contractor's evolving construction timeline, we work to anticipate our clients' needs and meet those needs as efficiently and quickly as possible.
2. Our perfect safety record. Our belief is that investing in safety means investing in people. We are extremely proud of our claims-free and incident-free status with WorkSafe BC, and attribute this success to our strong company safety culture. In 2018 we voluntarily hired a safety professional to craft a custom safety program tailored specifically to our company. While this is not mandatory for a company of our size, we feel it was a worthwhile investment as it has given us the strongest, safest foundation to operate and grow from. We are proud of our spotless safety record and continually strive to uphold the highest standards for the safety and wellbeing of our customers, employees and fellow tradespersons.
3. Waste reduction. We are very fortunate to live in a pristinely beautiful part of the world and feel a strong obligation to take care of it by diverting as much waste from the landfill as possible. Our fully integrated cloud-based accounting and operation systems are paperless, and office waste is either composted or recycled. We are also mindful of waste diversion in the field and donate usable fixtures and materials to local charities such as the Habitat for Humanity Re-Use Centre in Courtenay. We recycle as much of our job site waste as possible, including cardboard, plastic, styrofoam, scrap wire, metal and burned out light bulbs, with the goal of working towards a zero-waste designation. We are dedicated to raising awareness about this issue both in our industry and in our community and strive to be leaders in this movement.
What is a typical job like for Comox Valley Electric? What sectors do you typically work in?
Currently, the bulk of our work is in the residential sector, but we are poised to take on more commercial work as our team grows in 2019. On any given day, our crew is busy wiring new homes for one of our valued general contractors or completing renovation electrical work in houses and businesses across the Comox Valley. We also perform a wide variety of service calls in our community each day. From residential and commercial electrical repairs to energy efficient upgrades, every day is filled with a broad variety of work.
How has your business evolved or changed since its inception?
Our company is young and is constantly evolving and changing as we grow. Early on, we sought the support and guidance from talented professionals who helped us leverage the latest cloud-based systems to operate as efficiently as possible right from the start. We are much busier now and are thankful that the infrastructure was set in place early on to allow us to grow with relative ease. We continue to embrace technology to help us operate more efficiently, and are always learning new ways to innovate and leverage the latest technologies to help us perform at our very best for the benefit of our customers.
Can you tell us about a project that you found particularly interesting, unique, or rewarding?
Two projects shine as key highlights…
1. In late 2017, we wired our very first home for Candor Developments. That home was a key build for us because it was the start of a valuable professional relationship which continues to this day. Aligning ourselves with skilled, reputable professionals is an important priority for us, and we love working with Candor Developments because they build high quality homes with unique features.
2. In early 2018, we were part of a bespoke oceanfront build with very unique features, most notably an exterior glass elevator. Constructed by long-time fine home builder Griffith Homes, this custom seaside residence was an interesting and stimulating technical installation for us. We were honoured to play a part in that project for a team of true local craftsmen.
What are some of the industry advancements or developments that have influenced what you do?
In our sector, the industry advancements and developments which have most notably influenced our work to date would be LEDs and smart home technology. Our customers want to save energy and they want the convenience and programmability of smart lighting. Looking to the future, we are currently developing a plan to implement photo-voltaic and other renewable energy technologies into our scope of work. As we scale up operations, we have the unique opportunity to develop this niche as we grow our family company.
I like that your website includes a detailed blog and projects section. How does a comprehensive website add to your business? Why was it important for you to include that amount of detail on your website?
As an owner-operated business, our customers are essentially hiring us when they engage our company's services. In today's digital age, our website is nearly always our first contact with a potential customer, so we want to put our best foot forward online. We like to express our core business values to all who view our site, but we also want our prospective clients to get to know us as people, view our credentials, and learn about our work all in one convenient place. We are thankful to have the support of Aaron at Milan Web Development as he has been instrumental in helping us optimize our site and ensure our customers feel confident they are hiring professionals with proven credentials and local experience.
What advice would you give to someone looking to start their own contracting business, or perhaps someone who is a new business owner struggling to establish their business?
We define success as knowing that we did our absolute best each day. We also feel successful when our customers are happy with our service and refer friends and family to us. We view referrals as a compliment and an act of trust which is very gratifying given our company's service ethics. Lastly, but most importantly, we also feel successful when our employees and fellow tradespeople go home safely each day. Knowing that our safety program is working well is a rewarding feeling and also contributes greatly to our overall success.
As far as advice to an owner of a new contracting business, we would suggest enlisting the help of skilled professionals to start strong. It's important to honestly assess your own skills and decide where best to invest your time. We knew our time and energy would be focussed on taking care of customers, so we determined early on that we needed expert help to get off the ground and reach our goals for growth.
There will always be a demand for skilled, qualified contractors with proven credentials. Hard work is part of success but so is quality work. Customer service is the icing on the cake, but neat, accurate work completed safely and with pride under all required permits is foundational to success.
Find out more about Comox Valley Electric Ltd

Blake Marchand is Assistant Editor, Panel Builder & Systems Integrator