Matt Melanson of ELKO Electric on Being a Business Owner and Competing at the Ideal Nationals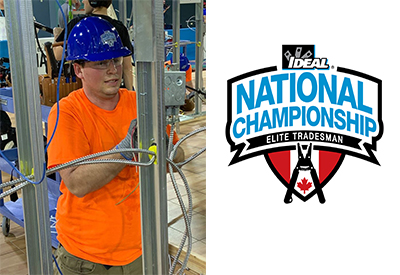 Jan 31, 2020
By Blake Marchand
Held from November 7th to 9th in Orlando, Florida and aired on ESPN 2, the Ideal National Championships give electricians a chance to display their skills in a high-level competition. The event expanded internationally for the first time this year — over 55,000 electricians from countries attempted to qualify for a chance to compete in the championship event.
Matt Melanson of ELKO Electric qualified out of London, Ontario, along with two of his employees Dyllan Ellis and Jeremie Denis.
"I've been in the trade 14 years and I've had my own business for three years, now," Matt noted.
"I worked for this company for about 10 years and there was an opportunity — the old owner was moving on, I already had my Masters license and was planning to do my own thing. So, the opportunity was there to take it over."
Matt noted that there was a bit of a transitional phase to a management position "The first year was tough. I like to work, I like being in the field but there's the business side of it. You have to schedule, you have to be out there quoting and arranging work so everyone else can work."
"But I've gotten used to it, there's little jobs here and there that I get to do," he said, to get him out into the field, "I've got some young apprentices I'll take to jobs — so, I'll try and teach them and get some administrative work done while they're working away."
In total 18 Canadians qualified for the championship event down in Florida, seven professionals and seven apprentices as well as a two-person professional and apprentice team. Matt was one of two professionals for the Central division and Dyllan and Jeremie were the professional and apprentice Wild Cards.
Matt qualified for the National Championship in 2018 and 2019, and will no doubt try for third time in 2020. "It's just the whole experience," he said, "they kind of treat you like a professional athlete."
"Both years I bought boards and practiced at home in the living while watching TV or something," he said discussing the qualifying process, which clocked the fastest times to complete the Ideal Industries official contest board.
"Last year [2018] was a three man team, this year it was a two man team, so the other two guys [Jordan and Brett, who competed this year as True North], they teamed together so I figured, hey, I'll go for individual," he said, adding that it was certainly a different challenge from the team event.
From what he saw in 2018 Matt said, "my strategy was to go for speed, but it didn't work out as well as I hoped."
"I finished and I finished with time left. I had everything done and was pretty happy with what I did," although, he noted, "there's always stuff you look back on, watching videos and replays, that you'd change."
Another challenge for the international competitors is that the competition is done to the American standard, which is slightly different than the standard in Canada. The competition was also geared more towards commercial/industrial sectors, so for electricians like Matt who work primarily on residential jobs there's an added layer. Like in professional sports, the difference between having that muscle memory and just doing rather than having to think first can be huge. "They're doing a lot of pipe work and armored cable and that kind of stuff — and I'm using Romex and metal boxes," he said, "so, you have to figure it out on the fly and go with it."
And then there's the added pressure of the competition atmosphere. "You're working away, and you look up and there's a camera right in your face – everybody who's there, we're all professionals but there's mistakes you make there you wouldn't make anywhere else."
Despite finishing outside the top 50 (only two Canadians made it in), it was a great experience for Matt. Which had a lot to do with the atmosphere. "I told my wife about it last year and she came with me this year and said the same thing, they really do it up big and it doesn't feel cheesy or cheap — they really promote it and made it feel like a big event," he said.
Blake Marchand is an Associate Editor with Kerrwil Electrical Group